Description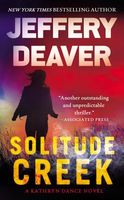 A tragedy occurs at a small concert venue on the Monterey Peninsula. Cries of "fire" are raised and, panicked, people run for the doors, only to find them blocked. A half dozen people die and others are seriously injured. But it's the panic and the stampede that killed them; there was no fire.

Kathryn Dance--a brilliant California Bureau of Investigation agent and body language expert--discovers that the stampede was caused intentionally and that the perpetrator, a man obsessed with turning people's own fears and greed into weapons,

has more attacks planned. She and her team must race against the clock to find where he will strike next before more innocents die.
Full Synopsis
About the Book
Published:

May-2015

(Hardcover)

Feb-2016

(Paperback)

Formats:

Print / eBook / Audio

Pages:

464

Purchase:
What Readers Are Saying
What do you think? Write your own comment on this book!
Write a Comment

Solitude Creek is the fourth book in the Kathryn Dance series by popular American author, Jeffery Deaver. Kinesics expert and CBI Agent, Kathryn Dance is a skilled interviewer, but when her assessment of a witness to major gang crime goes wrong, she is relegated to Civ Div, weaponless and checking on regulatory compliances. On a routine check after a fire at a concert at Solitude Creek, Kathryn discovers that the tragic deaths and injuries are not the result of an unfortunate accident, but rather, due to the deliberate actions of an unknown perpetrator.

Before her investigations progress far, a similar situation involving crowd panic at another venue results in more injuries and deaths. As Kathryn and MCSO officer, Michael O'Neil try to track down this clever killer, Kathryn also stays involved in the crime gang case, under her boss's radar. O'Neil has other cases to monitor as well: a missing farmer, a dead Jane Doe in a motel room and a spate of racially-motivated graffiti and vandalism.

Once again, Deaver gives his readers an original plot with plenty of twists and red herrings. His tale graphically illustrates the potential dangers faced at crowded venues and the power of social media to effect a mob mentality leading to stampede in the face of panic. He also highlights the plight of Americans of Japanese ancestry interned in "Relocation Centres" during World War Two, the unfairness of certain land acquisition laws and the existence of on-demand snuff films.

This instalment includes lots of action, a sting, a marriage proposal, and a bit of computer hacking by Kathryn's man, Jon Boling. There's a bit of brand soup going on, with a generous sprinkling of clothing, shoe and accessory labels: perhaps the intention is to attract more female readers, but it does nothing for the story. Given his upbringing, the involvement of Dance's son, Wes in racist activities is somewhat less than credible. Nonetheless, a page-turner.