Description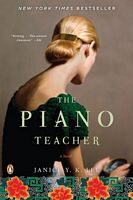 In 1942, Will Truesdale, an Englishman newly arrived in Hong Kong, falls headlong into a passionate relationship with Trudy Liang, a beautiful Eurasian socialite. But their love affair is soon threatened by the invasion of the Japanese as World War II overwhelms their part of the world. Will is sent to an internment camp, where he and other foreigners struggle daily for survival. Meanwhile, Trudy remains outside, forced to form dangerous alliances with the Japanese--in particular, the malevolent head of the gendarmerie, whose desperate attempts to locate a priceless collection of Chinese art lead to a chain of terrible betrayals.

Ten years later, Claire Pendleton comes to Hong Kong and is hired by the wealthy Chen family as their daughter's piano teacher. A provincial English newlywed, Claire is seduced by the heady social life of the expatriate community. At one of its elegant cocktail parties, she meets Will, to whom she is instantly attracted--but as their affair intensifies, Claire discovers that Will's enigmatic persona hides a devastating past. As she begins to understand the true nature of the world she has entered, and long-buried secrets start to emerge, Claire learns that sometimes the price of survival is love.
Full Synopsis
About the Book
Published:

Jan-2009

(Hardcover)

Nov-2009

(Paperback)

Formats:

Print / eBook / Audio

Pages:

352

Age Level:

18 & up

Purchase:
What Readers Are Saying
What do you think? Write your own comment on this book!
Write a Comment
The story begins in 1952. Claire Pendleton is newly married. She arrives in Hong Kong with her husband, Martin. Claire admits that she doesn't really love her husband but married him to get out of her home and away from a complaining mother.

Boren and in need of income, she accepts a job as a piano teacher for the daughter of wealthy Victor Chen and his wife, Melody. After one lesson, a trinket of the Chens falls into Claire's purse. When it's not noticed, she begins a period of petty thievery from the Chens. This results in the Chens firing a servant for the thefts.

The story flashes back to 1941 and the period before the war. It centers on Trudy Liang a Eurasian and Will Truesdale, an Englishman newly arrived in Hong Kong. They become attracted to each other and begin an affair and Will moves through the Hong Kong society as the war approaches.

Back in current time, Claire meets will as she is celebrating her twenty-eighth birthday. Will is now age forty-three. They begin seeing each other and this leads to an affair.

One day, Claire is at the beach with Martin. She's wearing a scarf that she had stolen from Melody Chen. Unexpectedly, they run into the Chens and Melody tells her that she has a scarf just like it. Claire makes some excuse but wonders if Melody figured out that she stole it.

Events move slowly. The Japanese take over Hong Kong and people do what they must to survive. Some people do things that they must hide when the war ends.

Claire and Will continue their affair and she learns something about his actions during the war. She must decide what she will do with this information.

The story was an interesting look at two periods of time but the characters were unappealing and unsympathetic. Nevertheless, the author is a talented writer and the novel was a nice diversion.