Description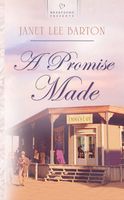 When Emma Hanson's young friend, a single mother, dies and leaves baby Mandy to Emma's care, the town of Roswell takes sides. Most of the men say Emma can't manage - after all, she has a restaurant to run - but the townswomen have rallied to her cause, helping out as best they can.

However, when the underhanded councilman Douglas Harper plots to take Mandy away, Emma has to take matters into her own hands. Despite her attraction toward the town's deputy, Matthew Johnson, Emma has placed an ad in the papers for a mail-order husband.
/>
Can Emma trust God to bring her the right man?
Full Synopsis
About the Book
Published:

Mar-2003

Formats:

Print / eBook

Pages:

170

Purchase: