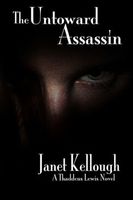 Newest Release
Bibliography:

10 Books - 1 Series

First Book:

November 2009

Latest Book:

March 2019

Rating:
Full Series List in Order
1 - On the Head of a Pin (Nov-2009)
2 - Sowing Poison (Jul-2012)
3 - 47 Sorrows (Aug-2013)
Book List in Order:
10

titles
On the Head of a Pin

Thaddeus Lewis, an itinerant "saddlebag" preacher still mourns the mysterious death of his daughter Sarah as he rides to his new posting in Prince Edward County. When a girl in Demorestville dies in a similar way, he realizes that the circumstance...

---

Sowing Poison

Nathan Elliott returns home to be with his dying father but within days he has disappeared. Methodist circuit rider Thaddeus Lewis joins the hunt but is disturbed by the arrival of Nathan's wife, who is a psychic. This historical mystery includes a s...

---

47 Sorrows

In this third novel in the series, Thaddeus Lewis and his son journey into the heart of disaster.

When the bloated corpse of a man dressed in women's clothing washes up on the shore of Lake Ontario near Thaddeus Lewis's home, nothing is...

---

The Palace of the Moon

/ Literary

Cara Collins returns to her home town to bury her mother and discovers a secret that was spawned one balmy spring night at The Palace of the Moon, a ramshackle dance hall perched on the spectacular sand dunes that fringe the western edge of Prince Ed...

---

The Pear Shaped Woman

/ Literary

Liddie Rose Marsh grows up in a place where the chickens and old car engines share the same barnyard; where old folks and young folks and miscellaneous relatives all go along to the Town Hall dances; and where her pear-shaped aunt is carrying on a fe...

---

The Burying Ground

Someone is digging up the graves at the Strangers' Burying Ground in Toronto -- the final resting place of criminals, vagrants, indigents, and alcoholics -- and the only person who seems to care is the sexton, Morgan Spicer. The authorities are...

---

Wishful Seeing

2017 Arthur Ellis Award, Best Novel ― Shortlisted
Saddlebag preacher Thaddeus Lewis uncovers murder and conspiracy in Northumberland County.

A body is discovered on an isolated island in Rice Lake. Saddlebag preacher Thaddeus Lewis i...

---

The Heart Balm Tort

Still humiliated after his disastrous posting in Cobourg, preacher and sometime detective Thaddeus Lewis is asked to investigate a case of arson and murder that had its beginnings as a simple suit for seduction - a so-called "heart balm tort." The la...

---

The Bathwater Conspiracy

Nothing about this case makes sense. Detective Carson "Mac" MacHenry can't figure out why the Darmes are so interested in this one dead girl or why the secretive federal police have rushed the autopsy or why, a few days later, the records of th...

---

---

The Untoward Assassin

Someone is following saddlebag preacher and sometime detective Thaddeus Lewis. Someone is sending him money. Someone is trying to kill him. Is it all the same person? Thaddeus accompanies his granddaughter Martha to Toronto so that she can attend the...

---
Frequently Asked Questions (FAQ)
Janet Kellough has published 10 books.
Janet Kellough does not have a new book coming out soon. The latest book, The Untoward Assassin, was published in March 2019.
The first book by Janet Kellough, On the Head of a Pin, was published in November 2009.
Yes. Janet Kellough has 1 series.