Description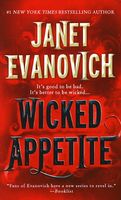 LIZZY TUCKER has inherited a historic house in Marblehead, Massachusetts, taken a new job as pastry chef for Dazzle's Bakery in Salem, and set her sights on a comfortable future. The comfortable future and any hope for normalcy evaporates when dark-haired, dark-hearted Gerwulf Grimoire and his nemesis, a blond beach bum named Diesel, enter Dazzle's and change Lizzy's life forever.

GRIMOIRE has set his sights on the Stones of SALIGIA, rumored to have found their way to Salem. These seven stones, each representing one of the seven deadly sins, can bestow frightening powers upon its owner. Powers that would be dangerous in Grimoire's hands...

DIESEL is a man with a mission: to stop Grimoire at all costs. In order to do so he'll need to convince the baker she alone has the ability to keep Grimoire from the stones. Once Lizzy and Diesel become a team, Diesel will have to guard Lizzy's body...day and night.

THE SEVEN DEADLY SINS pretty much cover everything that's wicked. Diesel thinks they also pretty much cover everything that's fun. And Lizzy thinks Diesel and The Sins cover everything her mother warned her about...
Full Synopsis
About the Book
Published:

Sep-2010

(Hardcover)

Aug-2011

(Paperback)

Formats:

Print / eBook / Audio

Pages:

346

Purchase:
What Readers Are Saying
What do you think? Write your own comment on this book!
Write a Comment

I found this book both funny and entertaining. Being from Massachusetts made it easy to picture the scenes and places mentioned in the book but I feel it is not a necessary factor in reading this book. The descriptive entries take care of the many details needed to create a visual for the reader. I absolutely loved this book so much that I could not put it down. Some of the passages were just plain "laugh out loud" funny. In fact I can see this actually happening in a state that harbors the history of the Salem witch trials, and its justifications, and a very puritanical way of looking at strange happenings. There is always a logical explanation for every piece of odd behavior in Massachusetts and Ms. Evanovich captures the essence of this Salem "logic". This is a must read or as I did listen. If you do choose to listen, which I recommend, be prepared for intriguing characterizations and an excellent sense of the story and its surroundings but be sure to have the time allotted to finish the book in one sitting.