Description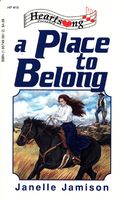 Maggie hates Garrett Lucas, despises her father, and is running from God.

Stong-willed Magdelena Intissar has a temper that matches her auburn hair. She always gets her own way, and she is not about to let Garrett Lucas drag her away from her childhood home to rejoin the father who deserted her when she was eight years old.

After failing to sneak down a rose trellis at her Topeka home, Maggie boards a westbound train with Garrett. Feigning cooperation but bent on escape, late one night, she slips off the train and starts walking east across the prairie. The risk of death is preferable to facing her father and her painful memories.

But Garrett--and God--have other plans.
Full Synopsis