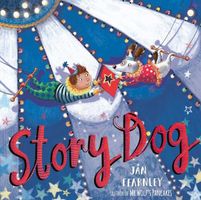 Newest Release
Bibliography:

26 Books - 1 Series

First Book:

May 2000

Latest Book:

March 2023

Rating:
Full Series List in Order
Mr. Wolf and the Enormous Turnip (Sep-2005)
Mr. Wolf's Pancakes (Sep-2008)
Book List in Order:
26

titles
---

Just Like You

Mama Mouse and Little Mouse, having seen and heard various animal parents pledging their love to their children, tell each other how special they are, in a humorous and endearing bedtime story that captures the unique bond between parent and child....

---

Colin and the Curly Claw

Blue Bananas Teacher's GuideBased on the Blue Bananas series, this resource for teachers helps reinforce what students learn in their core reading program, through engaging activities that focus on reading skills. Teachers will find: - activities tha...

---

Mr. Wolf and the Three Bears

It's Baby Bear's birthday and Mr. Wolf is throwing a party. He and Grandma Wolf have whipped up lots of tasty snacks. And the Three Bears have just arrived!Then Goldilocks--the rudest girl in the neighborhood--barges in. Who invited her? Poor Mr. Wol...

---

A Perfect Day for It

What's the perfect thing to do on a crisp winter day? Bear certainly seems to be up to something. But what? His friends can't help being curious, so they secretly follow him up the snowy trail to the top of the mountain. And when they get there, Bear...

---

Billy Tibbles Moves Out!

Billy Tibbles loves having his very own bedroom. He can play with his toys, read his books, ride his skateboard, and even bounce on his squeaky, creaky bed, without having to share with anyone.Until the day Billy's brother, Little Eric, moves in. Bil...

---

Watch Out!

A little one's unbridled enthusiasm is a mother's special challenge in this tender, amusing story that offers a sweet final twist.Wilf is a little mouse who is bursting with energy and full of fun. He loves to run and skip and climb and jump arou...

---

Mr. Wolf and the Enormous Turnip

Mr. Wolf has found an enormous turnip. Just the thing to make his favorite supper—spicy turnip stew! But Mr. Wolf needs some help. The turnip is stuck fast. Can the little frog help him? Mr. Wolf's off on another rip-roaring adventure, and, as al...

---

Very Proper Fox

Frankie the Fox loves baked beans and dancing, but Naughty Rabbit says that proper foxes don't jig about! Proper foxes catch chickens. So Frankie steals down the lane to the chicken's house. He licks his lips, he flexes his claws, he growls like a pr...

---

---

The Search for the Perfect Child

Where is the perfect child? A humorous, roundabout search leads back to the reader.Fido Farnsworth, the cleverest, smartest, coolest dog in the whole world, is faced with his hardest job yet. How will he ever find the perfect child? Is the perfect ch...

---

Mommy, Do You Love Me?

No amount of mischief can shake a mommy's assurance of affection in this humorous, heartening story sure to soften even the most trying days.Even when a little chick makes funny faces, splashes in the mud, and comes in last place, his mommy still l...

---

Are We There Yet?

Billy Tibbles and his boisterous family are at it again! "Why must I always be the one who remembers everything?" said Dad. The journey to Gran and Grandad's seems endless when Dad keeps having to drive back home for the rest of the family to collect...

---

Martha in the Middle

Martha is tired of being in the middle — until a frog points out its benefits — in a funny story sure to have middle siblings feeling on top of the world.Being in the middle is no fun for Martha. She gets squashed between her siblings when they a...

---

Mr. Wolf's Pancakes

Mr. Wolf fancies some tasty pancakes, but he doesn't know how to make them and has trouble reading the Wolf It Down Recipe Book. Asking his neighbors is no use—Chicken Little, Wee Willy Winkle, the Gingerbread Man, Little Red Riding Hood, and the T...

---

Milo Armadillo

Tallulah's present is not what she asked for. And it's not what the other kids have. Would she be better off without him? When no one can find a pink fluffy rabbit to buy for Tallulah on her birthday, Grandma gets creative with her knitting ne...

---

The Baby Dragon-Tamer

Boom! Crash! Bang! A dragon has arrived! He is big, loud, snorting purple smoke—and all he wants is treasure. And he'll try anything to get it . . . but he wasn't expecting the Baby. The Baby isn't the slightest bit afraid of the dragon, no matter ...

---

---

Harry and the Jaggedy Daggers

Harry the harbor mouse is heartbroken when his boat is dashed and smashed on the dangerous, mean old rocks—the terrible Jaggedy Daggers! But just as the sea brings mischief, it brings surprises too . . . A story about being brave, even if you are v...

---

Flying Like Flittermouse

The yellow tea shop belonged to Etsuko hamster. She was full of kindness and made everyone welcome. Every day, Boz the Boatbuilder popped in for a pot of raspberry tea and a chat. They were best friends. One day, a mysterious stranger flew in to town...

---

---

Light-Fingered Larry

Light-Fingered Larry likes nothing better than sneaking about, pinching other people's stuff. Slippery and sly, his eight tentacles grab things and stash the booty in his deep sea den. Nickity-nickity-nick-nick-gone! But when he steals Kiki Koala's s...

---

---

Oh Me, Oh My, A Pie!

A nice old grandma bakes a pie, but - oh me, oh my! - that yummy treat is stolen by a greedy fox, then lost and found by a mouse, snatched by a cat, grabbed by a dog, and plucked away by an owl, before landing back on Grandma's table for everyone to ...

---

Little Robin's Christmas

Little Robin's generosity is rewarded in this heartwarming holiday tale about the gift of sharing."A cozy Christmas read." —Kirkus ReviewsOne frosty evening, a week before Christmas, Little Robin prepares for the chilly nights to come by wash...

---

Little Robin Red Vest

One frosty evening, a week before Christmas, Little Robin washes and irons seven warm vests for the chilly nights to come. As the days go by, he comes across lots of shivering animals and kindly offers them his vests to wear. But - oh no! - on Christ...

---

How Can You Lose an Elephant

A funny and reassuring story about friendship, tempers, and making amends - and the perfect parental toolkit to help deal with tantrums. Meet Oscar, a boy who loses everything — his football boots, his scooter, even his clothes. Now meet Hugo, an e...

---

---
Frequently Asked Questions (FAQ)
Jan Fearnley has published 26 books.
The next book by Jan Fearnley, Story Dog, will be published in March 2023.
The first book by Jan Fearnley, A Special Something, was published in May 2000.
Yes. Jan Fearnley has 1 series.