Description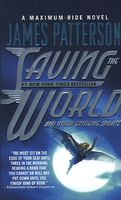 James Patterson calls this the best adventure story he's ever written. There's one last chance to save the world ...and it's in the hands of six extraordinary kids who can fly. Only they, led by the valiant Max, can stop a deadly plot to annihilate half the human population even as they're being hunted by nightmarish enemies. With mankind on the brink of destruction, Max must fight to protect those she loves, identify a traitor in her flock, and uncover a startling secret that will change her future...if there is a future.
About the Book
Published:

Jun-2007

(Hardcover)

Feb-2008

(Paperback)

Formats:

Print / eBook / Audio

Pages:

418

Age Level:

11-15

Purchase:
What Readers Are Saying
What do you think? Write your own comment on this book!
Write a Comment

SAVING THE WORLD AND OTHER EXTREME SPORTS by James Patterson is 407 pages in paperback form. It is #3 in The Maximum Ride series.

I had not read one of these books in a couple of years and I wasn't impressed with this one as much as the last two. I know this is a young adult book, but I thought it was a little too young for me this time. It is a fast read though as all the chapters are one or two pages. There was somewhat of a plot. I am sure that young kids would really enjoy this take on the children that fly.

Some interesting things were discovered in this book and I am sure the next one will continue with the the Saving The World theme. I think it will be a while before I read the next one though. Maybe reading a couple of James Patterson within the same month had something to do with my reaction to this book. I normally give him 5 out of 5 stars. This one just didn't give me that feeling.

I do love Max and Fang and how they care for the children like they are one big happy family. Total the dog is an interesting character too because he can talk and thinks he is human.

I am giving this 4 out of 5 stars. The story just didn't seem like it was original this time. It just seemed like the story had been changed minutely and I felt like I had read it before.

BUY NOW: Conniesbookshelf.com $2.99