Description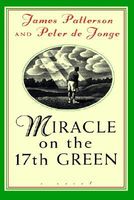 An inspiring story of hope, redemption, and trying to hit the ball straight on the world s most revered golf course
A year ago Travis McKinley, an unknown golfing amateur, shocked the world by winning the PGA Senior Open at Pebble Beach. Now he makes his living playing golf in paradise, and everything should be perfect but Travis can t shake the feeling that he s a fraud, an impostor who doesn t deserve his success.
Then Travis blows a tournament and is suspended for assaulting another player. His family and friends are shocked,

and Travis realizes he needs to find his purpose. His quest leads him to befriend a young teenager with a passion for golf and a troubled past who teaches Travis what a miracle really looks like. For fans of "Miracle on the 17th Green," "Miracle at Augusta" asks life s biggest questions and gives us hope to find the answers."
Full Synopsis