Description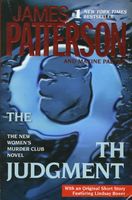 The most personal

A young mother and her infant child are ruthlessly gunned down while returning to their car in the garage of a shopping mall. There are no witnesses, and Detective Lindsay Boxer is left with only one shred of evidence: a cryptic message scrawled across the windshield in bloodred lipstick.

The most dangerous

The same night, the wife of A-list actor Marcus Dowling is woken by a cat burglar who is about to steal millions of dollars' worth of precious jewels. In just seconds there is a nearly empty safe, a lifeless body, and another mystery that throws San Francisco into hysteria.

The most exciting Women's Murder Club novel ever

Lindsay spends every waking hour working with her partner, Rich--and her desire for him threatens to tear apart both her engagement and the Women's Murder Club. Before Lindsay and her friends can piece together either case, one of the killers forces Lindsay to put her own life on the line--but is it enough to save the city? With unparalleled danger and explosive action, The 9th Judgment is James Patterson at his compelling, unstoppable best
Full Synopsis
About the Book
Published:

May-2010

(Hardcover)

Apr-2011

(Paperback)

Formats:

Print / eBook / Audio

Pages:

416

Purchase:
What Readers Are Saying
What do you think? Write your own comment on this book!
Write a Comment

3 1/2 stars

The prologue of the novel reveals a cat burglar stealing jewels from Casey Dowling, wife of movie star, Marcus Dowling. As the thief leaves, she knocks over the console table and wakes the Dowlings up. Their marriage was on the rocks and Marcus sees a way to murder hiw wife and get away with it. He kills Casey and blames it on the thief.

Another case involves a psuchopathatic killer whose motto is "women and children first." He kills women with their children and becomes known as The Lipstick Killer. His actions terrorize San Francisco.

Detective Lindsay Boxer is working with her partner, Rick Conklin, to catch the killers.

As The Lipstick Killer kills another mother and child, Boxer intensifies her search but is hampered by the lack of witnesses.

Spending more time together, Lindsay and Rick find their emotions toward each other growing. The have difficulty in concentrating on the cases and not giving in to their feelings toward each other.

Lindsay is a well described character. She is brave and determined in her search for the killers. The story moves along swiftly but is predictable.
THE 9TH JUDGMENT by James Patterson & Maxine Paetro is 355 pages long in hardcover. This is #9 in the Women's Murder Club Series.


This is a fast paced book and can be read in an afternoon. I believe if they took out some of the blank pages this book would be a 250 page read instead of 355.

I do like all the female characters in this book, but this is definitely more about Lindsay and not Claire or Cindy. Claire and Cindy are in the book, but not the focus. I am still not sure if Lindsay is going to stay with Joe, as the tension between Rich and Lindsay seems to be mounting. I am not sure that Lindsay really likes Cindy seeing Rich. I do enjoy this waffling though.

There were some interesting developments in the relationship between Cindy and Rich, but also between Lindsay and Rich. Joe is not a main character and maybe if he had more of a story, it would be a more interesting dynamic.

I am giving this 4 out of 5 stars. I don't believe it was the best book that I have read by these two writers, but it wasn't the worst either. I would like to see more in the story. I did enjoy this, but I didn't love it.

BUY NOW: Conniesbookshelf.com $5.99