Description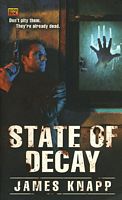 They call them revivors -- technologically reanimated corpses -- and away from the public eye, they do humanity's dirtiest work. In the near future, where a never-ending war drones on, they are the infantry. Back home, they sustain a black-market trade in labor and pleasure models.

If Nico Wachalowski never sees another revivor, it will be too soon. He chose to fight alongside -- and against -- them rather than allowing his corpse to later be revived for military service. But now, back home and working as a field agent for the FBI,

he's sent to bust a smuggling ring trafficking revivors for the sex trade. What he finds is not pleasure models, but revivors that are custom-made to kill, and a massive stockpile of weapons. Someone is taking a war to the streets. Nico soon realizes that the twisted roots of this conspiracy go unfathomably deep -- and that there may be more to revivors than he ever knew.
Full Synopsis
About the Book
Published:

Feb-2010

Formats:

Print / eBook

Pages:

370

Age Level:

18 & up

Purchase: