Description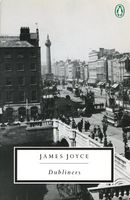 In these masterful stories, steeped in realism, Joyce creates an exacting portrait of his native city, showing how it reflects the general decline of Irish culture and civilization. Joyce compels attention by the power of its unique vision of the world, its controlling sense of the truths of human experience.
About the Book
Published:

1914

Formats:

Print / eBook / Audio

Pages:

368

Age Level:

18 & up

Purchase:
What Readers Are Saying
What do you think? Write your own comment on this book!
Write a Comment
James Joyce's collection of short stories were written one hundred years ago, but when you read them they seem relevant and important today. These stories collectively offer a revealing glimpse into life in Ireland at the dawn of the First World War. James Joyce has an uncanny talent in portraying lives lived and loves won and lost. It's almost as if you are secretly watching these people from a window. You get a first hand view as these characters live their lives and interact with their friends and family. The stories are about different people, but the place is always Dublin. Joyce has portrayed Dubliners as they really were at this point in time. The descriptions are beautifully written, the characters are real and life-like, and the beautiful language connects it all. I had read "Portrait of an Artist as a Young Man" awhile ago, and was impressed then with Joyce's writing skills. But that was a novel and even though it was beautifully written, I was aware that he had the whole length of the novel to flesh out his characters. In these short stories the story and the characters are perfectly fleshed out in the space of the few pages for each of the fifteen stories. I couldn't really pick a favourite among them as each was an incredible masterpiece in its own right. A remarkable achievement and one that very few authors can achieve. In his time Joyce was known as a revolutionary author. His form, structure, language and creativity continue to influence writers today. I couldn't help but wonder how much top-rated authors like Alice Munro were influenced by Mr. Joyce's work. I definitely need to read a few more of this author's books. "Finnegan's Wake" and "Ulysses" are calling me.