Description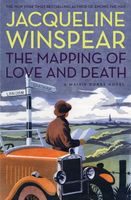 August 1914. As Michael Clifton is mapping land he has just purchased in California's beautiful Santa Ynez Valley, war is declared in Europe -- and duty-bound to his father's native country, the young cartographer soon sets sail for England to serve in the British army. Three years later, he is listed as missing in action.

April 1932. After Michael's remains are unearthed in France, his parents retain London psychologist and investigator Maisie Dobbs, hoping she can find the unnamed nurse whose love letters were among their late son's

belongings. It is a quest that leads Maisie back to her own bittersweet wartime love -- and to the stunning discovery that Michael Clifton was murdered in his dugout. Suddenly an exposed web of intrigue and violence threatens to ensnare the dead soldier's family and even Maisie herself as she attempts to cope with the impending loss of her mentor and the unsettling awareness that she is once again falling in love.
Full Synopsis
About the Book
Published:

Apr-2010

(Hardcover)

Feb-2011

(Paperback)

Formats:

Print / eBook / Audio

Pages:

471

Purchase:
What Readers Are Saying
What do you think? Write your own comment on this book!
Write a Comment

The Mapping of Love and Death is the seventh book in the Maisie Dobbs series by British-born American author, Jacqueline Winspear. Psychologist and investigator, Maisie Dobbs is engaged by a Boston couple, Edward and Martha Clifton, whose youngest son, Michael, died in the trenches in France in 1917. Not until fifteen years later were his remains found, and with them, letters from an English Nurse.

Michael was a cartographer who had just spent part of his inheritance on land in California that he felt sure bore oil. When the autopsy report shows that he was murdered, Maisie is asked to track down his unnamed nurse and, if she can, to find his murderer. To distract her from her task, James Compton returns from Canada for good, her mentor, Maurice Blanche becomes increasingly frail, and Billy Beal is understandably apprehensive about Doreen's return from hospital.

This instalment explores the vital role of cartographers in war, as well as the important contribution of the many Nursing Units, and the purpose of cinematographers on the front lines. Maisie has to deal with DI Caldwell now that Stratton has gone to Special Branch; she is mugged, goes to car races, visits the School of Military Engineers and more than one hospital. The value of post-traumatic counselling is highlighted, and Winspear drags several red herrings through her plot to keep the reader guessing on more than one front. The final chapters see great changes wrought in Maisie's personal life and presage possible major alterations in her career. Once again, an excellent read that will have readers seeking out the next book in the series, A Lesson In Secrets.