Description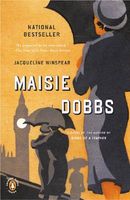 The daughter of a struggling greengrocer, Maisie Dobbs was only thirteen when she was sent to work as a maid for wealthy London aristocrats. But being bright and thoughtful beyond her years, Maisie studies her way to Cambridge, then serves as a nurse on the Front during the Great War. Now, it's the spring of 1929, nearly ten years after the Armistice and Maisie has just opened up her own detective agency. Her first assignment, a seemingly open-and-shut infidelity case, will reveal a much deeper, darker mystery, forcing Maisie to revisit the horrors

of the war and the ghost she left behind. Refreshing, absorbing, and beautifully rendered, Maisie Dobbs marks the beginning of an incredible new series.
Full Synopsis
About the Book
Published:

Jul-2003

Formats:

Print / eBook / Audio

Pages:

294

Purchase:
What Readers Are Saying
What do you think? Write your own comment on this book!
Write a Comment

This book is the first book in the Maisie Dobbs series, and let me tell you, I can't wait to read the other ones. The book is set in England in the summer of 1929, but the flashbacks to Maisie's time in France as a nurse during the Great War run throughout the book. Maisie is a wonderful sleuth, bright, literate and a psychology major. Her past life experiences as the daughter of a greengrocer who drove a horse and cart around London delivering fresh vegetables, to her time as an in-between maid in a grand house in London, to her time spent in a women's university studying psychology to her time as a nurse in France during the Great War help her relate to her clients on a personal level now that she runs her own detective agency. And throughout we meet other wonderful characters. Her father Frankie is a delight and so proud of his brilliant daughter. Her mentor Maurice Blanche is also wonderful and he teaches Maisie everything she needs to know to be able to carry on his business after he retires. The horrors of the First World War are so achingly portrayed here. The devestation and the loss of life so incredibly high. No one that served in that war is ever the same again, even if they manage to come home afterwards. It's sometimes difficult to read the war tales because they are so realistic. And Maisie! What a wonderful and caring character she is. She is compassionate and genuine, but smart enough that nothing gets past her. Her first case on her own is to solve a seemingly straightforward infidelity case, but it turns out to be so much more than that by the time that Maisie and her employee Billy Beale get to the bottom of it. I can't recommend this book enough to anyone who loves historical mystery books. And if you happen to have a special place in your quest for knowledge about the Great War, this book is for you.
Maisie Dobbs is the first book in the Maisie Dobbs series by British-born American author, Jacqueline Winspear. The story starts in 1929, when thirty-two-year-old Maisie is setting up her own private investigation business. She has taken over the business of her mentor, Maurice Blanche, and is supported by her patron, Lady Rowan Compton and the very capable office caretaker, Billy Beale. Her first client is convinced his wife is being unfaithful: an easy case to solve, but it leads Maisie into a very different investigation, partly out of curiosity, and partly on behalf of Lady Compton. The novel is divided into three parts, with the middle section describing Maisie's life from her early teens through her involvement in the Great War, a history that proves very relevant to her investigation. Winspear has created a fascinating heroine: clever, wise, considerate, philosophical, with a good knowledge of psychology and a strong intuitive endowment. Alexander McCall Smith describes Maisie Dobbs as "a real gift". In this novel, Winspear touches on desertion, "shell shock" (perhaps better known these days as Post Traumatic Stress Disorder), cowardice, disfiguring injuries and adjusting to post-war life. Maisie Dobbs was a nominee for Best Novel in the Edgar Award 2004. This historical mystery is a moving and thought-provoking read.