Description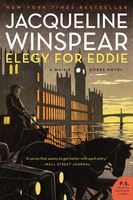 Early April 1933. To the costermongers of Covent Garden -- sellers of fruits and vegetables on the London streets -- Eddie Pettit was a gentle soul with a near-magical gift for working with horses. So who would want to kill him ... and why?

Maisie Dobbs's father, Frankie, had been a costermonger, and she remembers Eddie fondly. But it soon becomes clear that powerful political and financial forces are determined to prevent her from learning the truth behind Eddie's death. Maisie's search for answers on the working-class streets of

Lambeth leads her to unexpected places and people: to a callous press baron; to a has-been politician named Winston Churchill; and, most surprisingly, to Douglas Partridge, the husband of her dearest friend, Priscilla. As Maisie uncovers lies and manipulation on a national scale, she must decide whether to risk everything to see justice done.
Full Synopsis
About the Book
Published:

Apr-2012

(Hardcover)

Oct-2012

(Paperback)

Formats:

Print / eBook / Audio

Pages:

335

Purchase:
What Readers Are Saying
What do you think? Write your own comment on this book!
Write a Comment

"Everything good has a dark side, even generosity. It can become overbearing, intimidating, even humiliating – and no one likes to think someone else is pulling the strings…."

Elegy For Eddie is the ninth book in the Maisie Dobbs series by British-born American author, Jacqueline Winspear. Maisie Dobbs, psychologist and private investigator, is asked to investigate the supposedly accidental death of a simple man with an uncanny gift for dealing with horses. Eddie Pettit was well-known and loved amongst the costermongers of Covent Garden, former associates of Maisie's father, Frankie, and they are sceptical about the circumstances of Eddie's death.

As Billy Beale and Maisie try to discover a motive for his death, they learn that Eddie had certain special talents that were not apparent. Maisie discovers two other deaths that were ruled suicides but which strike her as suspicious, and Billy's investigations land him in the hospital. His wife Doreen's slowly-recovering mental health suffers a setback, and Maisie is taken to task for her need for control. Her relationship with James Compton takes a new direction, Maisie accepts counsel from an unexpected quarter and discovers a few surprising things about her father, her best friend's husband and her lover.

This instalment is set in April 1933, against a background of increasing Fascism in Germany that signals the possibility of another war. Winspear touches on the power of the press, the subtle use of propaganda, and the balance between freedom of information and the need for national security, as well as the position of women in society. Winspear develops her main characters more fully and her plot takes a few unexpected turns. Another excellent Winspear mystery.