Description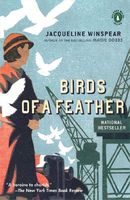 Maisie Dobbs is back, and this time she has been hired to find a wealthy grocery magnate's daughter who has fled from home.
What seems a simple case at first becomes complicated when Maisie learns of the recent violent deaths of three of the heiress's old friends. Is there a connection between her mysterious disappearance and the murders? Who would kill such charming young women?
As Maisie investigates, she discovers that the answers to all her questions lie in the unforgettable agony of The Great War.
About the Book
Published:

Jun-2004

(Hardcover)

Aug-2005

(Paperback)

Formats:

Print / eBook / Audio

Pages:

311

Purchase:
What Readers Are Saying
What do you think? Write your own comment on this book!
Write a Comment

I am really enjoying this Maisie Dobbs series. This is the second book in the series, and in it we see Maisie and her wonderful assistant Billy Beale hired to find a young woman who has disappeared from her upscale home on Belgravia. The time is spring 1930. Maisie has changed her circumstances since the first book. She has moved her office to a better area, and changed her living quarters as well. While they Billy and Maisie are mapping out Charlotte Waite's past to try to determine where she has gone to, they uncover a series of seemingly unrelated suicides and a murder. The more they dig, the more it appears that these events and Miss Waite's disappearance are connected. There are more references to the First World War and the links in the cases seem to go back to that time. I really enjoy Maisie and I love Ms. Winspear's writing. The plots are suspensful, the characters are well-drawn and I love the sense of time and place that goes into these books. Maisie is a wonderfully strong and intelligent woman, and one that is truly believable. I sure am going to continue with this series.
Birds of a Feather is the second book in the Maisie Dobbs series by British-born American author, Jacqueline Winspear. Now in a new office in Fitzroy Square with Billy Beale as her permanent assistant, Maisie Dobbs is still under the generous patronage of Lady Rowan Compton, living at the Compton's Ebery Street house and in the process of buying Lady Rowan's crimson MG. Maisie is engaged by a wealthy and highly respected self-made businessman and philanthropist, Joseph Waite, to find his daughter Charlotte, who has, once again, run away from home. A woman in her early thirties, the reason for Charlotte's disappearance is not entirely apparent, although it is obvious that neither her father nor the household staff have a good relationship with her. But is this rather unhappy young woman in hiding (and if so, where?), has she met with foul play or an accident, or has she taken her own life? Following up with Charlotte's very sparsely-populated address book, Billy and Maisie discover a link with a young woman recently murdered, and soon, in exactly the same manner, the same fate befalls another of Charlotte's contacts. When Maisie tracks down a third contact, a weeks-old suicide also begins to look suspicious. Joseph Waite has not been entirely forthcoming with information, and it seems that Billy Beale also has a problem he is not sharing with Maisie. DI Stratton makes a premature arrest and dismisses Maisie's misgivings; he continues his pursuit of Maisie socially, but his are not the only attentions Maisie has to handle. As well as expanding on Maisie's support cast, this installment illustrates further what life was like in 1930's England in rich and poor households alike, describing clothing and accoutrements, customs and behaviours, attitudes and beliefs. It also touches on the themes of remembrance and reminders, guilt, resentment and forgiveness, shame and coercion. Maisie demonstrates the value of following one's intuition, of listening to service personnel, of re-enacting certain situations and of empathy with witnesses and victims; she uses trace evidence and, as usual, gets valuable advice from her mentor, Maurice Blanche. Yoga, Pilates, a convent, chronic pain and narcotic abuse, and a decoy stand-in all feature. Another historical mystery with an intriguing plot and an exciting climax.