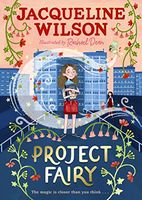 Newest Release
Bibliography:

100 Books - 2 Series

First Book:

October 1987

Latest Book:

September 2022

Rating:
Full Series List in Order
1 - Girls in Love (Jun-2000)
2 - Girls Under Pressure (Nov-1998)
3 - Girls Out Late (Jun-2003)
4 - Girls in Tears (Jun-2003)
1 - Hetty Feather (Nov-2009)
2 - Sapphire Battersea (Oct-2011)
3 - Emerald Star (Oct-2012)
4 - Diamond (Sep-2013)
Book List in Order:
100

titles
---

---

---

---

---

---

---

---

The Suitcase Kid

When Andy West's parents get divorced, she's left without a home to call her own. Both her parents remarry, and Andy finds herself shuttled between their houses -- one week with Mom and Bill the Baboon, one week with Dad and Carrie. Living out of a s...

---

---

---

---

Werepuppy On Holiday

'He can't help being a bit wild, Mum. He's not like other dogs.' A scary werewolf video leaves Micky terrified of dogs and Mum decides the only answer is to get Micky a puppy of his own. But when they go to the kennels to choose a puppy, Micky doesn'...

---

Double Act

Ten-year-old Ruby and Garnet are identical twins who do everything together. Especially since their mother died three years earlier. They dress alike, wear their hair the same, and sit together in every class. In fact, everything about them is the sa...

---

The Story of Tracy Beaker

TRACY BEAKER'S NOT exactly sure what her mother does, because Tracy has been in foster care for as long as she can remember. Maybe one day Tracy's mother will show up and reclaim her long-lost daughter, but in the meantime, Tracy's doing everythi...

---

---

Jacqueline Wilson Double Decker

Double Act Ruby and Garnet are ten-year-old twins. They're identical, and they do EVERYTHING together, especially since their mother died three years earlier - but they couldn't be more different. Bossy, bouncy, funny Ruby loves to take charge, and...

---

Girls Under Pressure

Ellie thinks she looks awful. Horrible. FAT. Her best friends are both drop-dead gorgeous and Ellie's sick of being the ugly duckling. So she goes on a diet. And she even starts to exercise, much to her friends' and her gym teacher's amazement....

---

The Lottie Project

Jacqueline Wilson is a bestselling author in England, second only to J. K. Rowling.Charlie's world is changing -- for the worse. Her new teacher refuses to call her anything but Charlotte. (Blech!) And forces her to sit next to Jamie Edwards, the mos...

---

Girls in Love

Ellie's starting ninth grade and she's got some very definite goals. She'll stay best friends with Magda and Nadine. She'll go on a diet and stick to it. She'll get a glamorous hairstyle. And she'll get a boyfriend. Even if she has to set...

---

---

---

---

---

Take A Good Look

Mary is fed up of being wrapped in cotton wool by her gran. Being blind doesn't mean that she can't look after herself. So Mary decides to go down to the sweetshop by herself for the first time but the trip is more eventful than she could ever have i...

---

Monster Eyeballs

A brilliant school story explroing themes of bullying and getting along, by award-winning author and former Children's Laureate Jaqueline Wilson. Perfect for children learning to read.Mark is the class bully. He loves scaring everyone. But has he met...

---

My Brother Bernadette

Yellow Bananas Teacher's Guide Based on the Yellow Bananas series, this resource for teachers helps reinforce and enhance what students learn in their core reading program through engaging activities that focus on reading skills. Teachers will find: ...

---

---

Girls in Tears

In the final volume of the fresh and funny Girls Quartet, Ellie's best friends do the unthinkable—bond without her—until the girls realize how to really be friends.Ellie knows the rule: Best friends always come before boys. But Russell isn't ...

---

Girls Out Late

Ellie finally meets a boy. The right boy. And she wants to spend all her time with him. Her curfew is way too early, but if her stepmother doesn't tell, her father will never know she's been out late. It's not like anything bad is going to happ...

---

The Worry Website

A wonderful collection of linked short stories from this enormously popular and bestselling author.Is anything bothering you? Problems in school or at home? Don't know what to do or where to turn? With Mr. Speed at the head of the class, help is on...

---

---

---

The Diamond Girls

Dixie is the youngest Diamond girl. She and her sisters - dreamy Martine, glamorous Rochelle and tough Jude - could hardly be more different, but their mum has always tried to teach them the value of sticking together. Now Mum''s expecting yet anothe...

---

---

Starring Mark Spark And Video Rose

Two brilliant books in one! VIDEO ROSE Rose loves watching videos and is sat in front of the telly ALL the time. So when the video player breaks, it's a total nightmare! But then a very mysterious repair man comes to fix it. He gives Rose the power t...

---

Clean Break

If you loved Jacqueline Wilson's Best Friends, here is another superb, thought-provoking novel for readers of 8+.Em adores her funny, glamorous dad – who cares if he's not her real father? He's wonderful to her, and to her little brother and ...

---

Love Lessons

A superb novel for older readers about forbidden love, from the bestselling, award-winning Jacqueline Wilson.      Fourteen-year-old Prue and her sister Grace have been educated at home by their controlling, super-strict father all their lives. ...

---

Three for Tea

In Countdown, Hugo wants a gerbil, but his dad says it's cruel to keep something in a cage. To prove him wrong, Hugo sets out to stay in a room by himself all day. But can he stand it, or will he crack? In My Brother Bernadette, Bernard and Sara are ...

---

Dustbin Baby

An unforgettable and moving story for older readers from mega-bestseller Jacqueline Wilson, featuring a special introduction from the author.      April knows she was abandoned in a rubbish bin as a newborn baby, fourteen years ago. Now she's ha...

---

Candyfloss

CHOOSING BETWEEN PARENTS AND FRIENDS Candyfloss is the perfect introduction to jacqueline Wilson.  When Floss's mother and stepfather announce they are moving to Australia for six months, Floss has to decide whether to go with them or stay home with...

---

The Monster Story-Teller

One morning at school, Natalie is feeling bored — until a tiny monster waves at her from a plant on the classroom window sill. The monster whizzes her off in his mini flying saucer for some MONSTER FUN. Now Natalie really has some monster stories t...

---

---

Buried Alive!

Tim can't wait to go on holiday - especially as he gets to bring his friend Biscuits along. But their trip unexpectedly becomes truly, terribly adventurous when an encounter with two local bully-boys threatens to disrupt the fun. Narrated by Tim an...

---

Cliffhanger

From climbing and abseiling to canoeing and a Crazy Bucket Race, the adventure holiday promises to be full of action. There's just one problem as far as Tim is concerned: he is hopeless at sports of any kind.Can Tim survive the horrors of a wee...

---

The Dare Game

I'M TRACY BEAKER, THE GREAT INVENTOR OF EXTREMELY OUTRAGEOUS DARES - AND I DARE YOU TO READ A MORE BRILLIANT STORY THAN THIS! I've bought a big fat purple notebook for writing down all my mega-manic ultra-scary stories in. But especially for my own ...

---

Starring Tracy Beaker

Tracy Beaker is back...and she's just desperate for a role in her school play. They're performing A Christmas Carol and for one extremely worrying moment, the irrepressible Tracy thinks she might not even get to play one of the unnamed street urchins...

---

The Dinosaur's Packed Lunch

A funny, touching tale from bestseller Jacqueline Wilson in a special Colour First Reader format that is perfect for learning to read. Dinah feels sad. Her class has gone on a school trip to see the dinosaurs at the museum, and everyone else has a t...

---

Best Friends

Can Gemma and Alice remain best friends forever when one of them has to move away? Another outstanding novel from a bestselling author.Alice is my very best friend. I don't know what I'd do without her.Gemma and Alice, born on the same day, have ...

---

The Bed and Breakfast Star

Where do baby apes sleep? In apricots! I'm Elsa, and that's one of my jokes (I tell LOTS of jokes and I'm going to be a big star one day). I do my best to cheer my family up - but no one seems to laugh much any more. Not since we lost our lovely hou...

---

The Cat Mummy

Verity adores her cat, Mabel, and is desperately sad when she dies. Remembering her recent school lessons about the Ancient Egyptians, Verity decides to mummify Mabel and keep her hidden. Verity's dad and grandparents can't bear to talk about death, ...

---

Vicky Angel

'You look as if you've seen a ghost!' Jade is so used to living in the shadow of Vicky, her loud, confident best friend, that when a tragic accident occurs, she can hardly believe that Vicky's no longer around. But Vicky's a sparky girl who's not go...

---

Illustrated Mum

It's like you're the mum Marigold wept. It was another game she sometimes liked to play. I decided it was my best chance of getting us home.' ******** Dolphin adores Marigold, her beautiful, vibrant mother. She's not like the other mum...

---

---

My Secret Diary

/ General Fiction

A wonderfully written and engaging teenage memoir: read all about Jacqueline's problems with her family, her first love, her school life and her friends. Read extracts from her real diaries and the stories she wrote as a teenager; learn all about the...

---

---

Glubbslyme

'Glubbslyme. You're magic'! When Rebecca wades into the witch's pond after a row with her best friend Sarah, she meets a very unusual new friend - a huge, warty toad! And Glubbslyme is no ordinary toad. Hundreds of years old, he can talk and - best o...

---

My Sister Jodie

A fabulous new novel that will be lapped up by all of Jacky's millions of fans."A brilliant young writer of wit and subtlety." —The Times"Hugely popular with seven to ten year olds: she should be prescribed for all cases of reading reluctan...

---

Lizzie Zipmouth

Lizzie isn't speaking to her new stepfamily -- she's a stubborn zipmouth -- until she meets a member of the new family who is even more determined than she is.In this short, lively novel from mega-selling author, Jacqueline Wilson, Lizzie has zip...

---

Sleepovers

Amy, Bella, Chloe, Daisy and Emily are friends at school and have their own Alphabet Club -- look at their initials! Daisy is the newest member and is desperate to fit in, even though Chloe is sometimes unfriendly towards her. Throughout the school y...

---

---

The Mum-Minder

I'm Sadie and I'm nearly nine. Mum's a childminder, but she doesn't have to mind me. I can mind myself, easy-peasy. Lucky for Mum, because now she's got the flu, so I've got to mind her — and help with all the babies!The Mum-Minder is a...

---

Hetty Feather

London, 1876. Hetty Feather is just a tiny baby when her mother leaves her at the Foundling Hospital. The Hospital cares for abandoned children - but Hetty must first live with a foster family until she is big enough to go to school. Life in the co...

---

Little Darlings

Sunset lives a life of luxury with her beautiful ex-model mum, her world-famous rock star dad and her two little celebrity siblings. But life on the red carpet is no compensation for parents who constantly argue, intensive scrutiny from the media, an...

---

---

The Longest Whale Song

Ella's mother is in a deep coma, having just had a new baby. That means Ella has to live with Jack, her hopeless stepfather, and cope with her tiny newborn brother, as well as worrying about Mum. The only thing that's going right is her school projec...

---

Lily Alone

Lily isn't home ALONE - but she sort of wishes she was; looking after her three younger siblings is a lot of responsibility. When Mum goes off on holiday with her new boyfriend and her stepdad fails to show up, Lily is determined to keep the family...

---

Sapphire Battersea

Hetty Feather is a Foundling Hospital girl and was given her name when she was left there as a baby. When she is reunited with her mother, she hopes her beautiful new name, Sapphire Battersea, will also mean a new life! But things don't always go as ...

---

---

Big Day Out

/ General Fiction

Enjoy four very special days out this World Book Day, in this collection of fun short stories from Jacqueline Wilson. From a trip to the country to a seaside outing and a funfair adventure, Big Day Out is a wonderful treat for dedicated fans of Jacqu...

---

The Worst Thing About My Sister

Marty and her sister Melissa couldn't be more different. Marty loves her Converse trainers, playing football, hiding in her secret den and helping her dad with his DIY. But Melissa loves Justin Bieber and all things pink, girly and pretty. The si...

---

The Tracy Beaker Trilogy

Three fantastic, bestselling stories featuring Jacqueline Wilson's most popular character, Tracy Beaker. 'I'm Tracy Beaker. This is a book all about me. I'd read it if I were you. It's the most incredible, dynamic, heart-rending story. Honest.' Ten...

---

Emerald Star

A fantastic new adventure for brave, feisty Hetty Feather - one of Jacqueline Wilson's most well-loved characters. Since leaving the Foundling Hospital, Hetty has seen her fair share of drama, excitement, tragedy and loss. After the death of her b...

---

---

Diamond

Diamond wasn't always a star. Born to penniless parents who longed for a strong, healthy son, she was a dainty, delicate daughter - and a bitter disappointment. Discovering an extraordinary gift for acrobatics, Diamond uses her talent to earn a fe...

---

---

Opal Plumstead

The exciting new story from one of the nation's best-loved authors, featuring a brand-new character, Opal, and set during the First World War.Opal Plumstead might be plain, but she has always been fiercely intelligent. Yet her scholarship and dreams ...

---

Paws and Whiskers

A wonderful collection of stories, extracts and poems about cats and dogs from one of our most beloved writers for children, Jacqueline Wilson.      This special anthology features the very best stories about cats and dogs from the world of chil...

---

Happy Holidays

A fantastic collection of short stories, activities and puzzles all about summer holidays, perfect for any Jacqueline Wilson fan.     How are you going to spend your summer holiday? Will you be going on a sunny beach holiday, meeting your friend...

---

Connie and the Water Babies

Connie's terrible fear of the water is made worse by the fact that her twin baby brother and sister are taking to it like proverbial ducks! Everyone in the family tries to help Connie overcome her phobia, but when they start losing patience, there is...

---

Four Children and It

Rosalind and Robbie don't want to spend the summer stuck in their dad's new house with irritating Smash and her glamorous mum. Dad's biggest wish is for everyone to get along. So when he suggests a picnic in nearby Oxshott woods, the children grudgin...

---

The Butterfly Club

Tina is a triplet, but she's always been the odd one out. Her sisters Phil and Maddie are bigger and stronger and better at just about everything. Luckily, they look after teeny-tiny Tina wherever they go - but when the girls start in scary, super-st...

---

How to Survive Summer Camp

When Stella is dumped at summer camp while her mum goes off on a posh honeymoon, things start badly. In the first few minutes she's mistaken for a boy and put in a room with snobby Louise and nasty Karen. Then she finds out she'll have to take dreade...

---

---

---

Video Rose

Rose loves watching videos and is sat in front of the telly ALL the time. So when the video player breaks, it's a total nightmare! But then a very mysterious repair man comes to fix it. He gives Rose the power to forward and rewind her life and then ...

---

Little Stars

Hetty Feather has begun a new chapter in her life story. Escaping from Tanglefield's Travelling Circus with her dearest friend Diamond, Hetty is determined to find them positions as glamorous music hall artistes. Hetty and Diamond quickly beco...

---

Rent a Bridesmaid

Tilly can't believe it when her best friend Matty is asked to be a bridesmaid. In Tilly's favourite daydream, she's wearing the most beautiful bridesmaid dress and walking down the aisle behind a bride. The one wedding she'd really love to attend is ...

---

Clover Moon

Clover Moon's imagination is her best escape from a life of hardship in poverty-stricken Victorian London. When tragedy plunges her into a world of grief, Clover realizes that everything she loved about the place she called home is gone. Clove...

---

Wave Me Goodbye

September, 1939. As the Second World War begins, 10-year-old Shirley is sent away on a train with her schoolmates. She doesn't know where she's going, or what's going to happen to her when she gets there. All she has been told is that she's g...

---

Hetty Feather's Christmas

An unexpected gift leads to trouble for Hetty on Christmas Day at the Foundling Hospital, and the dreaded Matron Bottomly is delighted to have an excuse to exclude Hetty from the festive celebrations. Poor Hetty is distraught—but just when it seems...

---

Rose Rivers

A wonderful new story about friendship against the odds, starring old friends and new from the much-beloved Victorian world of Hetty Feather. As the daughter of a wealthy artist, Rose Rivers and her siblings are used to a comfortable life in a bea...

---

I Dare You, Tracy Beaker

/ General Fiction

Previously published as bestselling book The Dare Game.I''M TRACY BEAKER, THE GREAT INVENTOR OF EXTREMELY OUTRAGEOUS DARES - AND I DARE YOU TO READ A MORE BRILLIANT STORY THAN THIS!I''ve bought a big fat purple notebook for writing down all my mega-m...

---

My Mum, Tracy Beaker

A heart-warming tale of unconventional families and unconditional love; the perfect read for Jacqueline Wilson fans, young and old(er). Shortlisted in the UK Author Category in the National Book Awards 2018! One of The Observer''s Best Children''s Bo...

---

---

---

---

We Are The Beaker Girls

Jess Beaker is having an amazing summer at her new seaside home! Jess and her mum Tracy have left the Duke Estate behind them, and have moved to Cooksea. They have new friends, their dog Alfie, and they're running an antiques shop calledȂ...

---

Dancing the Charleston

'Wild glamour, class conflict, buried secrets and a cameo appearance by Hetty Feather are all delivered with Wilson's inimitable, intensely readable flair, interspersed with Nick Sharratt's cheery illustrations' - The Guar...

---

Love Frankie

GROWING UP. FALLING IN LOVE. COMING OUT.Frankie is nearly fourteen and teenage life certainly comes with its ups and downs. Her mum is seriously ill with MS and Frankie can feel herself growing up quickly, no thanks to Sally and her gang of bullies a...

---

---

---

---

---

---
Frequently Asked Questions (FAQ)
Jacqueline Wilson has published 100 books.
Jacqueline Wilson does not have a new book coming out soon. The latest book, Project Fairy, was published in September 2022.
The first book by Jacqueline Wilson, Supersleuth, was published in October 1987.
Yes. Jacqueline Wilson has 2 series.