Description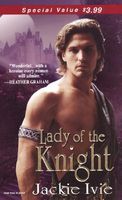 Set against the turbulent backdrop of fourteenth-century Scotland, Lady of the Knight tells the breathtaking tale of a brave lass left on her own and surrounded by treachery....

HER HONOR DEMANDED VENGEANCE
When her family is destroyed by clan FitzHugh, Morganna KilCreggar vows revenge. Tall and lean, she disguises herself as a lad--and hones her skills with deadly weapons. A man who brazenly takes what he wants, Alexander FitzHugh makes the boy "Morgan" his squire. The striking and brutally strong warrior never imagines what his servant is hiding. Yet FitzHugh cannot deny that he is strangely drawn to the lad in his charge, and he intends to find out why.

HIS HEART DEMANDED SURRENDER
With each day that passes, the bold knight peels away more of Morgan's defenses, until he finally reveals her most precious secret. Suddenly vulnerable to an unbidden desire, Morgan strays from her purpose...to Zander's bed, where she discovers sensual pleasures she never imagined. Now, in the battle between vengeance and passion, the more powerful will emerge victorious, bringing together two hearts, two clans, two souls...
Full Synopsis
About the Book
Published:

Dec-2004

Formats:

Print / eBook

Pages:

384

Purchase:
What Readers Are Saying
What do you think? Write your own comment on this book!
Write a Comment

AUTHOR: JACKIE IVIE has a dialogue style. The characters talk to each other in such a way that it brings you directly into their lives. She writes to make you feel included.

SYNOPSIS
This book is about her rise to becoming a national hero and within that rise, love blooms.
Setting in the Scottish Lowlands. A time of wars between clans and during a time when Scotland invaded by the Sassenach (Englishman).
Left behind the clan wars are mostly the children of dead clansmen. They are poor and destitute. They are forced to raid the bodies on the battlefield for anything of value that will help them to survive
A battlefield thief, a young woman dressed as a boy, arises and become a national hero.
Her journey starts when she is forced to become the serf of a warrior pretending to be dead on the battlefield.
The only problem: Her mind is set on avenging her clan's deaths and the warrior comes from the clan that she wants to take out revenge.

FAVORITE PART: She defeats the best Englishman in a competition that shows her talent.

LEAST FAVORITE PART: She is forced to walk for a day or so with a back injury. (I cried)

YOU WOULD LIKE THIS BOOK IF: You enjoy reading about a female rising from being destitute to becoming a heroine (but disguised as a boy). She has a talent that will best the best of any man. The confusion and disgust coming from a clan warrior that cannot figure out why he is desperately attracted to a person he believes to be a male.

FOUR AND A HALF STARS given because "I" hated the continuous use of God's name used in vain and some of the dialogue seemed to drag along. However, I recommend you read this book