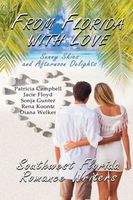 Newest Release
Bibliography:

10 Books - 1 Series

First Book:

August 2014

Latest Book:

October 2020

Rating:
Full Series List in Order
1 - Meet Your Mate (Aug-2014)
2 - Cursed by Love (Nov-2014)
3 - Meant for Me (May-2015)
Book List in Order:
10

titles
Meet Your Mate

Meet Your Mate, the first book in the Good Riders Series is a fun and flirty contemporary romance by award winning author Jacie FloydWhile longing to break free from a lifetime of responsibility, Annabel Morgan has never ventured very far from the co...

---

Cursed by Love

Does ownership of an ancient Chinese carving carry a curse? In this Golden Heart™ winning book, Superstitious third-grade teacher Molly Webber's opinion differs from that of motorcycle enthusiast and pragmatic businessman Gabe Shaw. A history of mi...

---

Meant for Me

When Nicole Smith was just a teenager with a head full of dreams, she saved the life of Mitch Grayson, a troubled boy about to join the Army. While she doubted she'd ever see him again, she could never quite forget him either. When their paths cros...

---

Winning Wyatt

When billionaire Wyatt Maitland shows up on Kara Enderley's doorstep after a three-year separation, the 30-year-old art critic comes face to face with her worst nightmare. Once upon a time, Wyatt helped Kara heal the tragedies of her past, but she ha...

---

Daring Dylan

In Book Two of The Billionaire Brotherhood, Dylan Bradford's arrival in East Langden, Maine, shakes up the quaint seaside town. The daredevil son of a wealthy political family indicates that he plans to renovate a recently inherited property. Dylan...

---

Happy This Year

/ Contemporary Romance

Beautiful young widow, Lisa Warner, devotes all of her time and attention to her two sons. After the tragic loss of her husband three years before, she's unwilling to put her heart on the line. But as the holidays approach, she fantasizes about a l...

---

Remaking Ryan

In Book Three of the Billionaire Brotherhood, Ryan Eastham appears to have it all—fame, fortune, and legendary good looks—but injury has ended his high-profile professional football career and he's at loose ends. After years of living, breathin...

---

Everybody Knows

THE FAST LANE WAS GOING NO WHERE…At least that's how librarian Harper Simmons felt. Despite growing up in her mother's glitzy world of high fashion and rock-stars, that lifestyle holds no appeal for Harper. She craves small-town normalcy and a ...

---

Face the Music

Astrophysicist Elliott Grayson routinely unlocks the mysteries of the sun, moon, and stars. But understanding faculty politics, social niceties, and beguiling women? Not so much. After a childhood of being touted as the next Einstein, he's all grow...

---

---

From Florida With Love: Sunny Skies and Afternoon Delights

A collection of 5 stories of summer fun from Southwest Florida Romance Writers.Stories include:Pick up Line by Patricia CampbellSophie's Seaside Treasures by Jacie FloydLove Knows No Depth by Sonja GunterWe Have Tomorrow by Rena KoontzThe Best Day Ev...

---
Frequently Asked Questions (FAQ)
Jacie Floyd has published 10 books.
Jacie Floyd does not have a new book coming out soon. The latest book, From Florida With Love: Sunny Skies and Afternoon Delights, was published in October 2020.
The first book by Jacie Floyd, Meet Your Mate, was published in August 2014.
Yes. Jacie Floyd has 1 series.