Description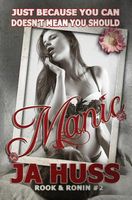 ****MORE THAN 500 FIVE STAR REVIEWS FOR THIS TRILOGY***
***This series is now complete***
TRAGIC is over and Rook is ready for the future-Spencer Shrike and the STURGIS contract! It's three months of body art modeling! That means three months of Spencer Shrike's paintbrush all over her body, three months in front of Antoine's camera, and three months of twenty-four-hour filming for Spencer's Biker Channel reality show.

Wait a minute... what reality show? Maybe she should've read that STURGIS contract a little closer? ;)

Sure, Rook's bank account is overflowing, but Ronin is angry, Clare is trying to escape rehab, Antoine is a worried mess, and Elise is just trying to hold everyone together. Rook's new family is about to fall apart before she even gets the chance to enjoy it. Add in a mysterious man from her past, a road trip to the famous Sturgis Motorcycle Rally, and a final show in front of the entire world where all her goods are on display, and you've got Manic- a sizzling erotic romance that will leave you begging for more.

Rook and Ronin Books
TRAGIC
MANIC
PANIC
SLACK
TAUT
BOMB
GUNS (Out March 31, 2014)

TAUT and SLACK can be read as standalones.
BOMB is a prequel to GUNS and is not optional if you plan on reading GUNS. There are a lot of critical plot points in this one.
Full Synopsis
About the Book
Published:

Jul-2013

Formats:

Print / eBook / Audio

Pages:

300

Purchase: