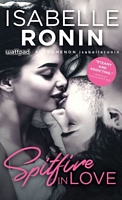 Newest Release
Bibliography:

3 Books - 1 Series

First Book:

September 2017

Latest Book:

May 2019

Rating:
Full Series List in Order
1 - Chasing Red (Sep-2017)
2 - Always Red (Nov-2017)
Book List in Order:
3

titles
Chasing Red

They said she was going to be my ruin... Then let her ruin me. Caleb Lockhart has everything--wealth, adoration, a brilliant future. Until a chance encounter with a siren in a red dress changes everything. Until he meets the woman he dubs Red. ...

---

Always Red

"Red," Caleb whispered. "Do you know how I felt when you left me?" I looked into his eyes. The emotion I saw in them, the intensity, and the tenderness filled up my throat. "I felt ruined. Because, Red, every time you break ...

---

Spitfire in Love

She's never at a loss for words. He's determined to have the last one. KARA There he was with his piercing blue eyes and Lucifer black hair. He was leaning against the wall, a lollipop in his mouth, hot as hell and twice as dangerous. ...

---
Frequently Asked Questions (FAQ)
Isabelle Ronin has published 3 books.
Isabelle Ronin does not have a new book coming out soon. The latest book, Spitfire in Love, was published in May 2019.
The first book by Isabelle Ronin, Chasing Red, was published in September 2017.
Yes. Isabelle Ronin has 1 series.