Description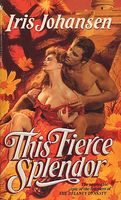 Scottish beauty Elspeth MacGregor travels to Hell's Bluff to hire Dominic Delaney to lead her to the magical lost city of Kantalan, but at first he refuses -- the last thing he needs is to join a virginal scholar on a dangerous quest.

But Elspeth's fiery will coupled with her silky hair and milk-white skin prove irresistible, and Dominic acts -- first with angry lust, then with a searing yet tender passion that brands her eternal soul and bonds them both to a heated and turbulent future.

Through wonders and tragedy,

across the untamed splendors of Arizona and Mexico, Elspeth and Dominic draw closer to their dual destiny: to experience the dark mysteries and magnificent riches of Kantalan... and to fulfill the promise of lasting love and the birth of a bold family dynasty.
Full Synopsis
About the Book
Published:

Feb-1988

Formats:

Print / eBook

Pages:

393

Purchase:
What Readers Are Saying
What do you think? Write your own comment on this book!
Write a Comment

This Fierce Splendor by Iris Johansen e ISBN: 978-0-307-79894-7

The story starts out in Kantalan, Mexico 1517 A.D. A colony of people living there worshiped the god, Ra. Sayan was a clairana and she had angered the priest by not keeping herself pure, she had fallen in love with Dalkar. But she had seen that Kantalan was going to be destroyed so she tried to send the people away but instead they were heading towards Sun Child, a volcano, with their sacrifices. Sayan had Cadra away. He ended up with an Apache tribe and later became the medicine man. Through Cadra the story of Sayan & Dalkar was passed along.


Elspeth MacGregor has traveled across the sea from Edinburgh on a mission and only one man could help her with it, Dominic Delaney. It's now 1870 and she has arrived in Hell's Bluff, Arizona Territory. She has dreamed of finding Kantalan since she was a young girl, Dominic was suppose to know how to get there. Only he refused to help her. Dressed in black mourning clothes since her father's death, Elspeth follows Dom around until everyone is calling her his shadow. With the help of Patrick Delaney, Dom's nephew, she has entered the brothel he rents a room in, she has sat outside of it waiting for him and than following him and finally when she enters the Nugget Saloon, he has had enough.

Dominic Delaney loves his home at Killara but ever since he killed a man ten years ago he won't go live there. Even though it was a fair fight the boys father has a price on Dom's head. His father has paid for a pardon so he no longer runs from the law but he can't trust that the men out to kill him won't hurt anyone he loves. After an incident with Elspeth, he ends up bringing her to the family home and eventually to Kantalan.

Their relationship is up and down. Dominic finds himself drawn to this Scottish woman even though he don't want to. His parents use her to entice him to stay on the ranch. Many other interesting characters are in the book and other side stories as well.

**Language & sexual situations
Received through NetGalley for review.