Description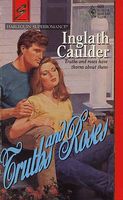 HOMETOWN HERO

Super Bowl hero Will Kincaid was at a crossroads. After a serious knee injury brought an abrupt end to his football career, he returned home to contemplate his future. But once there, he found himself involved in the town's activities--and involved with his old flame, town librarian Hannah Jacobs.

SMALL-TOWN SPINSTER

Hannah Jacobs liked her life just the way it was. So what if she never went out? How important was a social life, anyway? But then Will came home, dredging up memories Hannah

had put behind her ...memories of a mistake that had shattered her past and threatened her future.
Full Synopsis
What Readers Are Saying
What do you think? Write your own comment on this book!
Write a Comment
Lovely Fairytale . . .
Occasionally, I find myself caught up in an authorís work to the point I must glom (to seize or latch onto) everything the author has ever written! Inglath Cooper (Inglath Caulder) is one such author! Ms. Cooper first caught my attention in her touching tale, A GIFT OF GRACE (Harlequin ó June 2006).

Mini Synopsis:
As TRUTHS AND ROSES opens, a devastating knee injury has just ended Super Bowl hero Will Kincaidís playing career. The big dance is officially over and now it is time to pay the piper. Like a strangerís face, Willís future looms deep in uncertainty. It stretches ahead in shambles and doubt. Wobbly, Will returns home to Lake Perdue, his hometown, where he plans to heal physically and mentally. He also plans to mend a couple of fences with his demanding father. What Will doesnít plan is to run smack into the back of Hannah Jacobsí 1962 Cadillac. Hannah Jacobs is the reclusive town librarian. But once, a long time ago, Hannah Jacobs was the smartest girl in his high school class and she was THE girl who had crushed Willís youthful heart!

Daily, Hannah Jacobs goes to work; faithfully she goes to church; and lovingly she visits her aunt. For Hannah Jacobs, life is all about control. No wonder she finds superstar Willís sudden arousing interest in her disturbing and intrusive. His uninvited attention terrifies her. He flusters her, but like a moth to a flame, she is drawn to him. Now, Hannah is troubled with her staunchly arranged existence!

Reviewer's Comments:
In TRUTHS AND ROSES, Inglath Caulder has managed to create an entertaining Ďsecond-chance loveí fairytale involving two lost souls. While the twists and turns of this story are fairly solemn, Caulder displays Will and Hannah in a most engaging light. Though vulnerable, Hannah is no pushover and it's not hard to see her as a young, bright librarian eager to help. Charismatic Will is definitely an alpha male, but not overwhelmingly so, and, while he exudes an aura of heroism throughout the pages of this novel, it is never overly done. Willís pursuit of Hannah takes place in a series of situations that Caulder wonderfully handles. His gentle compliments seem to fit his character without seeming artificial. In addition, the conflicts between Will and Hannah appear genuine; certainly these are things that would create real issues in any developing relationship.

While TRUTHS AND ROSES does not break any new ground, it is a solid, entertaining modern fairytale. Caulderís characters are likable, her story is enjoyable - and what reader wouldn't want to believe in Caulderís fairytale, if only for an afternoon?

Page-turner Status
Grade: Bó

MaryGrace Meloche.