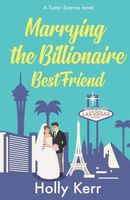 Newest Release
Bibliography:

24 Books - 1 Series

First Book:

September 2012

Latest Book:

October 2022

Rating:
Full Series List in Order
1 - The Secret Life of Charlotte Dodd (Jan-2016)
1.5 - The Missing Files of Charlotte Dodd (Nov-2016)
2 - The Best Worst First Date Ever (Oct-2017)
3 - The Hidden Past of Pippa McGovern ()
Multi-Author Series List
1 -
I Saw Him Standing There
(May-2019)
Book List in Order:
24

titles
Baby! Baby? Baby!?

Thirty-five-year old kindergarten teacher Casey Samms has always dreamed about having her own baby. With her copy of A Young Woman's Guide to the Joy of Impending Motherhood on her bedside table, Casey has been steadily wading through the pool of ...

---

Coming Home

Loving your sisters is easy. Liking them is the hard part.After her cheating husband destroys her career, Brenna has nowhere to go but home. Home means her four sisters in the tiny Northern Ontario town with no Starbucks and well-meaning townsfolk wh...

---

Absinthe Doesn't Make the Heart Grow Fonder

Chick Lit with a twistThe only thing Josie wants for her 40th birthday is to get her girls back together.Lana, Meredith, and Poppy have been with Josie through thick and thin -- through their tumultuous twenties, dealing with love and loss, through m...

---

The Dragon Under the Mountain

"We're going to get in so much trouble..." No one will admit to the coming up with the idea to hide out at Wonderland amusement park after it closes, but Emma, Matt and Macy and their friends Kass and Dash all agree to it. It's fun, but more than a l...

---

Unexpecting

Casey has two regrets -- breaking up with David Mason twelve years ago, and not having a baby. By the time she hits the feared mid-thirties mark, she knows the two are related.

"Perfect for a bath and wine, or a read on the beach. Be warne...

---

The Secret Life of Charlotte Dodd

Chick lit meet Spy Adventure My name is Charlotte Dodd. And that's the only thing I know for sure. Suddenly today, I'm able to: kick ass using serious Buffy-like fight moves shoot a speeding car with near perfect accuracy know that you can suck the a...

---

The Missing Files of Charlotte Dodd

/ General Fiction

I'm Charlotte Dodd. I'm a spy. 

"A wonderful introduction to a fun series and highly recommended!"

I'm Canada's best spy, actually. But just as important, I'm finally, happily in love with Ham Short. So happy and so in love, a...

---

The Best Worst First Date Ever

The adventures of Charlotte Dodd continue with The Best Worst First Date Ever. Tenley Scott is a single mother and owner of Soup du Jour. She's full of nervous excitement for her date with Colin, the handsome Brit who's been hanging around the ca...

---

The Dragon Under the Dome

There's another dragon.It's been two years since Emma, Matt, Macy and their friends Kass and Dash saved the dragon under the mountain. They never expected to see Archer, Gideus, or the others again. But when Archer shows up during a Blue Jays game, t...

---

---

Perfectly Played

Can a runaway bride find love with someone else's jilted groom?

Flower shop owner Flora has waited years to say "I do" but when she gets to the altar, all she can say is "I can't." 

Ex-ballplayer Dean waits for his turn ...

---

I Saw Him Standing There

/ Contemporary Romance

This stowaway sets sail for love!Small-time con artist Siggy needs to get out of town fast. When she's offered tickets on the legendary Oceanic Aphrodite, Siggy jumps at the chance to get away. A week on a luxury cruise ship, with a suitcase fu...

---

Beautifully Baked

Too bad there's no recipe for love.

M.K. can bake anything for her patisserie -- mouth-watering pastries, delicious macarons, buttery croissants. But a broken heart has left her hiding in the kitchen, dodging well-meaning match-ups, rath...

---

The Last Stand of Charlotte Dodd

Charlotte knows she's been a spy her whole life, but exactly what she's done as Canada's top agent is still fuzzy. But she's still the best of the best, and that includes training new recruits Tenley and Pippa for a life working for NIIA. Liv...

---

Pleasantly Popped

Love means wanting to share your popcorn but Ruthie can't do it. 

Ruthie's a free spirit, moving in and out of relationships faster than a Baby Yoda meme goes viral. It's easier being the heartbreaker rather than letting anyone get cl...

---

Don't Tell Me You Love Me

Shae may be dying, but she won't let that slow her down. And she's the perfect person to bring Emmett back to life.This book wasn't just an emotional roller coaster, it was the whole darned carnival.Being told she has a terminal illness when she was ...

---

Don't Want to Be Friends

Two things travel vlogger Neely has always known: She will always take care of Shae. And she will always be in love with her best friend Dawson.But unrequited love isn't what it used to be, and Neely is tired and more than a little annoyed with t...

---

Don't Stop Me Now

Pepper likes Dawson. Dawson likes Pepper. The only problem is Reuben. And Neely.I really wasn't sure who I wanted to be together but I was more than happy to go on this journey with them.Don't Stop Me Now is the third book in the Don't sweet romance ...

---

Falling for The Suitor

Twenty-six women trying to make a connection with the same man? It's going to seriously blow a fuse. But it'll make good television.I DEVOURED it in a single day...deliciously fun read! Electrical engineer Bexley knows she's not like the usual realit...

---

Hating the Chemistry Teacher

With Rachel and Boen, it's hate at first sight of her dog.Rachel has a talent for trouble. She speaks her mind, holds her grudges, and loves dogs. When she meets her new neighbor, Boen, the dog poop really hits the fan. He's taken over her favorite b...

---

---

Unexpectingly Happily Ever After

All Casey ever wanted was to be a mom, but triplets??!! ...more Casey and J.B. magic! Having a baby was all Casey ever wanted. All it took was a drunken night with roommate J.B., along with an expired condom for Casey to get everything she ever dream...

---

Fraternizing with the Ex

Brilliant mathematician Biba is intense, driven, and speaks her mind. Substitute teacher/world traveler David makes Matthew McConaughey look uptight.Only The Suitor can bring them togetherBiba has a life plan: Established career + suitable partne...

---

Marrying the Billionaire Best Friend

Mase Stirling-with his balls and his billions-might be the perfect leading man for some.Not Fiona.The man is a player both on and off the field.Mase is a baseball player, billionaire's son, and all-around fun guy. He collects names and numbers as eas...

---

Stepping Up

Loving your sisters is easy. Getting them to accept your help is the hard part.It may have taken years, but all five Skatt sisters are finally back together. Their antics in the tiny Northern Ontario town are legendary, involving fistfights and fierc...

---

The Hidden Past of Pippa McGovern

No one has ever stolen from me -- especially not my heart.

"...a mad romp that is witty, entertaining and fast-paced."

There's a reason they call me the It Girl of European espionage circles -- I can steal anything from anywhere....

---
Frequently Asked Questions (FAQ)
Holly Kerr has published 24 books.
Holly Kerr does not have a new book coming out soon. The latest book, Marrying the Billionaire Best Friend, was published in October 2022.
The first book by Holly Kerr, Baby! Baby? Baby!?, was published in September 2012.
Yes. Holly Kerr has 1 series.