Description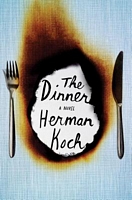 An internationally bestselling phenomenon: the darkly suspenseful, highly controversial tale of two families struggling to make the hardest decision of their lives -- all over the course of one meal.

It's a summer's evening in Amsterdam, and two couples meet at a fashionable restaurant for dinner. Between mouthfuls of food and over the polite scrapings of cutlery, the conversation remains a gentle hum of polite discourse -- the banality of work, the triviality of the holidays. But behind the empty words, terrible things need to be said, and with every forced smile and every new course, the knives are being sharpened.

Each couple has a fifteen-year-old son. The two boys are united by their accountability for a single horrific act; an act that has triggered a police investigation and shattered the comfortable, insulated worlds of their families. As the dinner reaches its culinary climax, the conversation finally touches on their children. As civility and friendship disintegrate, each couple show just how far they are prepared to go to protect those they love.

Tautly written, incredibly gripping, and told by an unforgettable narrator, The Dinner promises to be the topic of countless dinner party debates. Skewering everything from parenting values to pretentious menus to political convictions, this novel reveals the dark side of genteel society and asks what each of us would do in the face of unimaginable tragedy.
Full Synopsis
About the Book
Published:

Feb-2013

(Hardcover)

Oct-2013

(Paperback)

Formats:

Print / eBook / Audio

Pages:

304

Purchase:
What Readers Are Saying
What do you think? Write your own comment on this book!
Write a Comment
The Dinner is the sixth novel by Dutch actor, television and radio producer, newspaper columnist and author, Herman Koch, and the first book to be translated into English. Two brothers and their wives meet for dinner at an expensive restaurant to discuss the management of the recent, shocking activities of their teenaged sons. Serge Lohman is the charismatic leader of an opposition party poised to take power at the next election, a few months away, making him a strong candidate for the next Prime Minister of the Netherlands. His younger brother, Paul, has little respect for his brother's position and posturing, instead being focussed on the happiness of his own small family. The events of the evening are narrated by Paul and are interspersed with flashbacks to incidents that occurred months or years previously. Koch is a master craftsman when it comes to building his main character: Paul starts out as a reasonable, upstanding citizen, although his antagonism towards his brother is immediately apparent. As the story progresses, a different person begins to be revealed by glimpses, at first fleeting but gradually more sustained, and the reader starts to wonder about Paul's reliability as a narrator. In fact, none of the characters is quite what they first appear to be. Koch uses his novel to comment on Dutch tourists, pretentious restaurants, politics, marriage, parental control and adolescent right to privacy, youth violence and the internet, eugenics, and the instinct to protect one's young. Koch manages to include blackmail, a hereditary disorder, You Tube clips, quite a bit of violence, some hilarious descriptions of restaurant practices, a plot twist that will leave readers gasping and a chilling climax. This compelling, thought-provoking novel is flawlessly translated by Sam Garrett.