Description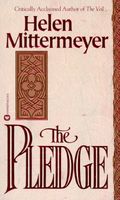 A Proud Welsh Princess:

In the year of our Lord 1327, the king decreed that Morrigan Llywelyn of Wales was to wed Hugh of Clan MacKay, a Scottish outlaw. Swearing never to bend to his will, Morrigan would tremble before the giant Scot, defeated not by force but by overwhelming desire...

A Scottish Outlaw:

Pardoned by King Edward, the renegade MacKay gave no thought to his bride until their nuptials. Then he faced a beauty with raven hair and dove-white skin he burned to touch, an innocent whose passion

nearly drove him mad. And when fate tore her from his arms, he began a desperate quest to find her -- fighting for his kingdom, his honor, and the woman who had stolen his heart.
Full Synopsis