Description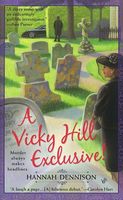 The debut of a new series set in the sleepy English town of Gipping-on-Plym, featuring ambitious but bumbling investigative journalist Vicky Hill, who'll do anything to get that front- page story...

Vicky Hill has two goals: escape the never-ending boredom of funeral reporting and find the right man. Then a tip leads to what might be the scoop of a lifetime. There is a bizarre connection between three grisly chicken corpses and the unusual death of local hedge-jumping enthusiast Sir Hugh Trewallyn. Suddenly, it seems that this quiet

market town harbors more than its fair share of secrets. Vicky's hoping it might be hiding some available men as well. But as she opens Gipping's Pandora's box, her own secrets come back to haunt her--even as her rival at the paper, sexy, unscrupulous Annabel Lake, tries to block her at every turn. Can Vicky rise to stardom before someone writes her obituary?
Full Synopsis