Description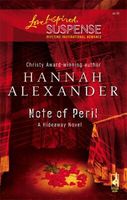 The unusual gift arrived after country singer Grace Brennan's show in Branson -- a music box with an anonymous note. Only Grace recognized the message's implied threat. Someone had discovered the Hideaway native's past indiscretion -- and intended to jeopardize her present success.

Her director's mysterious death left Grace free-falling -- into the arms of costar Michael Gold. Michael was supportive as Grace resisted pressure to betray her Christian values. But with danger looming, she realized that trusting anyone -- even the

man she secretly loved -- left her vulnerable. With a stalker closing in, could Michael convince Grace that going solo would only lead to greater danger?
Full Synopsis
About the Book
Published:

Jun-2005

Formats:

Print / eBook

Pages:

252

Purchase:
What Readers Are Saying
What do you think? Write your own comment on this book!
Write a Comment

In this latest book by the husband and wife writing duo, we meet a group of country music singers singing at a fictitious show just East of Branson Meadows. Those familuar with Branson will love all the references to places such as Shepherd of the Hills, Bass Pro Shop, Chateau on the Lake, and Top of the Rock to name only a few. It was fun reading this book about Branson, a place just thirty minutes from where I live in Arkansas! But I think more description would have helped those who were not from Branson get a better view.

This was another romance/mystery. Someone was sending Grace gifts and threatening to expose a secret. But apparently someone else was already exposing her secrets as articles about her life kept coming out in a newspaper written by a merciless reporter in Branson. One of the members of the show was found dead, and Grace was getting sick. There was also a strange relationship developing between one of the younger cast members and the owner of the music show.

The romance was okay, but not the best.Michael and Grace's relationship was hot/cold as things heated up on the suspense scene. I felt sorry for Michael who really didn't have a heart for the music concert anymore and just wanted to settle down and be a doctor. Stress does things for us, so I understand where Grace was coming from with her accusations, but it was still painful to watch.