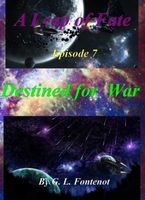 Newest Release
Bibliography:

9 Books - 1 Series

First Book:

August 2012

Latest Book:

June 2015
Full Series List in Order
1 - The Raulden Gambit (Feb-2013)
2 - The Caronian Conflict (Feb-2013)
3 - Retribution (Apr-2013)
4 - The Salvation of Caron (Jul-2013)
5 - The Journey Home (Oct-2013)
6 - The Games of the Triad (Mar-2014)
7 - Destined for War (Jun-2015)
Book List in Order:
9

titles
A Song for Daddy

/ General Fiction

Would you willingly volunteer to have a surgeon crack open your sternum and remove your heart so it might be used to save someone else's life? Suppose you are relatively young and healthy with a great future. Could a decision like that ever be co...

---

The Caronian Conflict

/ Science Fiction

Ron and Cache travel to Caron to assist the natives in their desire for freedom from the Kreete overlords. Separated from Cache at the onset, Ron must overcome space, terrain, beasts, weather, the human population, and even the Kreete to regain his p...

---

The Raulden Gambit

/ Science Fiction

Hi-jacked from Earth and unwillingly fused with another person, Ron Allison must find a way to rationalize his new reality and then fight to te death for it. Ron literally lands in the middle of a battle that appears unwinnable and his only hope for ...

---

Retribution

/ Science Fiction

Ron is captured by his hated enemy and sent to the fortress city, Huinrag. In the bowels of that Kreete stronghold he must withstand the unimaginable horrors of those sadistic demons. Once that torment is behind him though,he is sent to his final sto...

---

The Salvation of Caron

/ Science Fiction

Forced into a precarious alliance, Ron commits to help build and train the Caronian army. While doing so, he learns the truth of his own capture. He and Cache finally reunite at the very cusp of a battle that nearly ends their entire mission, but the...

---

The Journey Home

/ Science Fiction

Ron Allison and Cache Kuar are at it again, using every tool at their disposal to save a world from certain demise. This time though, it's Earth that needs protection. When Ron finds out his belief that his homeworld had been destroyed was a comp...

---

The Games of the Triad

/ Science Fiction

Plucked right out of his ship while hurtling through space, Ron is thrown into a mining prison under the supervision of an Ultra-heavy-worlder; Draake Tarbold. He is forced to fight men to stay alive, the heavy gravity to perform his duties, and his ...

---

Destined for War

/ Science Fiction

Ron Allison travels back to Caron to try and forget about everything he's been through for a while. He makes plans and dreams of a normal life...the one he's always wanted. That of course is a precarious balancing act, considering his commitments to ...

---

A Leap of Fate Episode 8

Powers beyond mortal comprehension have cast Ron Allison into an ancient world, thrown back in time to the beginning of his own story. Facing a world of strangers in a foreign land...his entire reality ripped from him...how can he cope? How could any...

---

---
Frequently Asked Questions (FAQ)
G.L. Fontenot has published 9 books.
G.L. Fontenot does not have a new book coming out soon. The latest book, Destined for War, was published in June 2015.
The first book by G.L. Fontenot, A Song for Daddy, was published in August 2012.
Yes. G.L. Fontenot has 1 series.