Description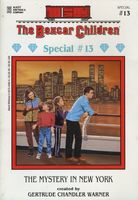 One warm night four children stood in front of a bakery. No one knew them. No one knew where they had come from.

A super-special mystery for the Boxcar Children!
Henry, Jessie, Violet, and Benny used to live alone in a boxcar. Now they have a home with their grandfather, and they're off to go sight-seeing in New York City!

But before the end of their very first day in the city someone steals the priceless Elizabeth Star Diamond from their friend Mr. Pound -- and the Boxcar Children spring into mystery-solving action.

They track clues through New York City's Central Park, down busy streets, and into glittering jewelry stores only to find that they have too many suspects! Can they figure out which one is the thief? Can you?
Full Synopsis