Description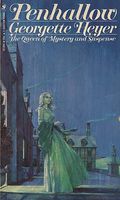 Old patriarch, Adam Penhallow, yet ruling his family and his Cornish roost with an iron hand from his sickbed. The death of menacing old man, on the eve of his birthday, seems at first to be by natural causes. He was elderly after all. But Penhallow wasn't well liked. Tyrannical Penhallow had ruled over his estate with an iron will and sharp tongue, playing one relative against another. He was so bad tempered and mean that both servants and kin cause to hate him for his cruel and vicious nature.

It soon transpires that far from being

a peaceful death, Penhallow was, in fact, murdered, poisoned. And there are more than a dozen prime suspects. With his entire family had assembled for his birthday celebration, and servants that both feared and despised him, there are more than a dozen prime suspects. Every one of them had the ways and means to commit the crime. But which one of them turned hatred into murder? As accusation and suspicion turn in one direction, then another, the claws and backstabbing come out, and no one is exempt from the coming implosion.
Full Synopsis
About the Book
Published:

1942

Formats:

Print / eBook / Audio

Pages:

464

Purchase: