Description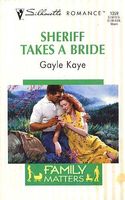 THE LAWMAN AND THE LADY

Hallie Cates's biological clock was ticking, but there was nary a husband on the horizon. Then she returned to her hometown and discovered Cam Osborne--a gorgeous small-town sheriff straight out of her dreams. He was everything she wanted in a man, but he'd sworn off commitment. And although she tried to steer clear of the handsome lawman, Cam was impossible to resist.

Avowed loner Cam liked his bachelor life-style--until he butted heads with the lovely schoolteacher over her law-breaking grandmother. Sweet Hallie with her down-home values was a lady worth chasing. Only problem was, Hallie was the kind of woman a man married, and Cam wasn't looking for a wife...was he?

FAMILY MATTERS
Kisses, kids, cuddles and kin. The best things in life are found in families!
Full Synopsis