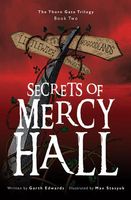 Newest Release
Bibliography:

9 Books - 2 Series

First Book:

April 2011

Latest Book:

September 2012
Full Series List in Order
Shipwrecked! (Sep-2011)
The Blue Wizard (Sep-2011)
The King of the Castle (Sep-2011)
The Magic Boots (Sep-2011)
The Trolls of Sugar Loaf Wood (Sep-2011)
1 - Escape from Mercy Hall (Apr-2011)
2 - Secrets of Mercy Hall (Sep-2012)
3 - Heroes of Mercy Hall (Sep-2012)
Book List in Order:
9

titles
Escape from Mercy Hall

Milly finds herself in trouble with the headmaster of Mercy Hall and, with the help of her friends George and Samuel, runs away to find her lost brother Tom, a quest that leads them into a strange land of Muttons and changelings....

---

The Blue Wizard

The Blue Wizard has lost his Singing Kettle! A Singing Kettle that can tell the future, and Wiffen has found it. But the future is not looking good for Titch and Mitch and their friends. The Black Witch is up to her evil tricks again, and this tim...

---

The King of the Castle

The third in the series of Titch & Mitch adventures for young readers and bed-timing parents. Garth Edward's charming and humorous stories follow the exploits of two lively pixies that will delight and entertain children worldwide. These stunningly i...

---

The Magic Boots

A lonely pair of magic boots are locked up in a tower and in need of good home. Titch and Mitch would dearly love to have them, but the boots have other ideas...

Escaped lions, mercy missions, a turkey with special powers, Christmas chaos an...

---

---

The Trolls of Sugar Loaf Wood

Pursuing rainbows, saving frightened little trees from terrible witches and flying over roof tops on their magic bicycle are all in a day s work for Titch and Mitch, but this time it s Mitch that needs saving . . . The trolls of Sugar Loaf Wood love ...

---

---

Secrets of Mercy Hall

With the orphanage running out of money, George, Milly, Charlie, and Singer go through the hedge in search of diamond traders and find themselves in danger as they try to make their way to NoGoodLands....

---

Shipwrecked

Shipwrecked and washed up on an island, Titch and Mitch discover a whole new world of adventure, danger, and wonderful new friends - from yellow seagulls to flying bicycles, talking turkeys to dragonmice with toothaches. Enjoy making friends? Going o...

---

---
Frequently Asked Questions (FAQ)
Garth Edwards has published 9 books.
Garth Edwards does not have a new book coming out soon. The latest book, Secrets of Mercy Hall, was published in September 2012.
The first book by Garth Edwards, Escape from Mercy Hall, was published in April 2011.
Yes. Garth Edwards has 2 series.