Description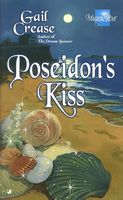 Long, long ago, the sea tried to claim the life of a young mother-to-be. But a mysterious man rescued the woman--and a promise was made to the great god of the sea...

Chelsea Porter doesn't believe the old family legend about her great-great-grandmother's miraculous escape from drowning. In fact, Chelsea has always loved the sea and has never been afraid of it. But lately she can't help but feel a strange sense of unease near the water. She tries to ignore these feelings--tucking them neatly away like her great-great-grandmother's diaries in the attic.

Then she meets Nicolas Demitry. Gorgeous, talented, mysterious Nicolas. His remarkable paintings of the sea are as intriguing as the artist himself. In his eyes, Chelsea senses her destiny. In his arms, she feels her fears slip away. But something about Nicolas seems haunted--haunted by a promise made long ago...and by the love he feels for a mortal woman.
Full Synopsis