Description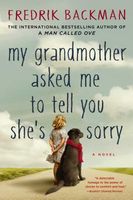 From the author of the internationally bestselling A Man Called Ove, a charming, warmhearted novel about a young girl whose grandmother dies and leaves behind a series of letters, sending her on a journey that brings to life the world of her grandmother's fairy tales.

Elsa is seven years old and different. Her grandmother is seventy-seven years old and crazy, standing-on-the-balcony-firing-paintball-guns-at-men-who-want-to-talk-about-Jesus-crazy. She is also Elsa's best, and only, friend. At night Elsa takes refuge in her grandmother's stories, in the Land of Almost-Awake and the Kingdom of Miamas where everybody is different and nobody needs to be normal.

When Elsa's grandmother dies and leaves behind a series of letters apologizing to people she has wronged, Elsa's greatest adventure begins. Her grandmother's letters lead her to an apartment building full of drunks, monsters, attack dogs, and totally ordinary old crones, but also to the truth about fairytales and kingdoms and a grandmother like no other.

My Grandmother Asked Me to Tell You She's Sorry is told with the same comic accuracy and beating heart as Fredrik Backman's internationally bestselling debut novel, A Man Called Ove. It is a story about life and death and an ode to one of the most important human rights: the right to be different.
Full Synopsis
About the Book
Published:

Jun-2015

(Hardcover)

Apr-2016

(Paperback)

Formats:

Print / eBook / Audio

Pages:

352

Purchase:
What Readers Are Saying
What do you think? Write your own comment on this book!
Write a Comment
"…storytelling is the noblest profession of all. The currency there is imagination; instead of buying something with coins you buy it with a good story. Libraries aren't known as libraries but as 'banks' and every fairy tale is worth a fortune"

My Grandmother Sends Her Regards and Apologises is the second novel by Swedish blogger, columnist and author, Fredrik Backman. As with his previous bestseller, this book is flawlessly translated by Henning Koch. Every seven-year-old girl needs a superhero of their own, and Elsa (almost eight) has one: her grandmother. Unfortunately, Granny has cancer and dies just a few days before Christmas and Elsa's eighth birthday, leaving her rudderless. But before she left, Granny charged Elsa with a mission: a treasure hunt of sorts, involving letters of apology to be delivered to some of the many people Granny has offended over the years. Elsa may feel overwhelmed by her task, but Granny made her a knight in the Land-of-Almost-Awake, so she tries to be brave and fearless. And after a while, Elsa realises that Granny has equipped her with what she needs to face the future without her.

Backman has peopled his novel with a wonderful cast of characters, often quirky yet familiar and appealing for all their faults and imperfections. The banter between the characters is enjoyable and often laugh-out-loud funny. Backman's plot is so cleverly devised that the reader can see events from the perspective of a seven (nearly eight) year old who believes in the fantasy world her granny has created for her, and from the point of view of the adults around her. And that fantasy world, the Land-of-Almost-Awake, is a wonderful thing in itself, with its parallels in the lives, loves and losses of the real-world characters.

Backman given his characters many words of wisdom and insightful observations: "People who have never been hunted always seem to think there's a reason for it. 'They wouldn't do it without a cause, would they? You must have done something to provoke them.' As if that was how oppression works" and "…sometimes the safest place is when you flee to what seems the most dangerous" and "When it comes to terror, reality's got nothing on the power of imagination" are examples. He also gives Elsa some excellent retorts to adult statements: for 'It's complicated.' Elsa has 'Yes, until someone explains it to you!' and for 'It's hard to help those who don't want to help themselves' she cleverly objects 'Someone who wants to help himself is possibly not the one who's most in need of other people's help'.

Backman's second novel is another winner, and readers will be eager to know what he can come up with next. Funny, sad and truly heartwarming.