Description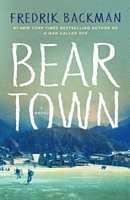 People say Beartown is finished. A tiny community nestled deep in the forest, it is slowly losing ground to the ever encroaching trees. But down by the lake stands an old ice rink, built generations ago by the working men who founded this town. And in that ice rink is the reason people in Beartown believe tomorrow will be better than today. Their junior ice hockey team is about to compete in the national semi-finals, and they actually have a shot at winning. All the hopes and dreams of this place now rest on the shoulders of a handful of teenage boys.

Being responsible for the hopes of an entire town is a heavy burden, and the semi-final match is the catalyst for a violent act that will leave a young girl traumatized and a town in turmoil. Accusations are made and, like ripples on a pond, they travel through all of Beartown, leaving no resident unaffected.

Beartown explores the hopes that bring a small community together, the secrets that tear it apart, and the courage it takes for an individual to go against the grain. In this story of a small forest town, Fredrik Backman has found the entire world.
Full Synopsis
What Readers Are Saying
What do you think? Write your own comment on this book!
Write a Comment

This book is as different from The Man Called Ove as any book could possibly be, but, it is just as unforgettable. Fredrik Backman is a wonderful author. This book appears to be about ice hockey, but it is more about small town prejudices, secrets, violence and support for neighbours in tough times. It is about how a shocking event affects people and families and the ripple effects from that event.. Beartown is a small northern community in Sweden. They have gone from a thriving town with three or four schools to a town with two schools and lots of empty storefronts on the main street. Some industry has shut down and there has been no new industry started. But they live and breathe hockey, and they have a hockey organization funded by local sponsors that boasts a hot junior team. We meet all the players and their parents and other family members as we read this book. Backman does a great job of characterization and these characters are so well-drawn. The whole town is electrified and lthey are ooking forward to great things from their Junior team. Their team is about to compete in the national championships, and they actually have a chance to win! Bearttown is putthing their hopes and dreams on a team of teenage boys. The pressure is intense on these young men, and it is the touchstone for an act of violence that rocks the whole town. No one in Beartown is immune to the fallout of this horrific act. Backman illustrates so well how each person in Beartown is affected by it from the two individuals that were involved right down to the rest of the team, siblings, family, friends, and the rest of the entire community. The shockwaves are tremendous and the town is forever changed. I loved the book and recommend it highly. It is certainly not a feel-good novel, but it is a very clear illustration of what life in a small town is like in this modern world and what individuals must do to survive in a hostile environment.