Description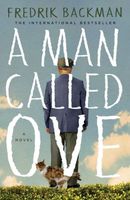 In this bestselling and "charming debut" (People) from one of Sweden's most successful authors, a grumpy yet loveable man finds his solitary world turned on its head when a boisterous young family moves in next door.

Meet Ove. He's a curmudgeon -- the kind of man who points at people he dislikes as if they were burglars caught outside his bedroom window. He has staunch principles, strict routines, and a short fuse. People call him "the bitter neighbor from hell." But must Ove be bitter just because he doesn't walk around with a smile plastered to his face all the time?

Behind the cranky exterior there is a story and a sadness. So when one November morning a chatty young couple with two chatty young daughters move in next door and accidentally flatten Ove's mailbox, it is the lead-in to a comical and heartwarming tale of unkempt cats, unexpected friendship, and the ancient art of backing up a U-Haul. All of which will change one cranky old man and a local residents' association to their very foundations.

A feel-good story in the spirit of The Unlikely Pilgrimage of Harold Fry and Major Pettigrew's Last Stand, Fredrik Backman's novel about the angry old man next door is a thoughtful exploration of the profound impact one life has on countless others.
Full Synopsis
About the Book
Published:

Jul-2014

(Hardcover)

May-2015

(Paperback)

Formats:

Print / eBook / Audio

Pages:

352

Age Level:

18 & up

Purchase:
What Readers Are Saying
What do you think? Write your own comment on this book!
Write a Comment

I really don't know where to begin with this book. First of all, I absolutely loved, adored, and was enthralled with it. Ove is a man you will not forget very soon. The book was originally written in Swedish and translated into English. In the beginning we meet a man who has just lost his wife of many years to cancer, and he, for the life of him, can't figure out why he is still alive when his whole world is gone. Ove is a curmudgeon - quiet, taciturn and very, very principled. His wife, although we don't meet her except through Ove's memories, was sweetness, light and laughter and best of all, she loved Ove. Ove is just existing through his empty days until the day a young couple move in next door and they begin to take over looking after Ove, although they would never admit that to him. The woman is Iraqi and the man is Asian, but they don't say what country he's from. They have two darling little girls, three and seven. This family and some other people and a lost stray cat enter Ove's world and change his life. He finds a purpose to his life again, and although it would never do for Ove to admit he was happy, he reallly is. The book is so sad in places, especially when we first meet the heartbroken Ove, but it is also extremely funny as we watch Ove change in spite of himself. The language, even in this translation, is so wonderully real and the picture that is painted of Ove and his many hangers-on. so realistic! There are so many quotes worth repeating to try to depict the beauty of this book. I had trouble choosing one, but went with this one. "Had Ove been the sort of man who contemplated how and when one became the sort of man one was, he might have said that was the day he leanred that right was right." This was the day that he, as a young teenager, had found a wallet with money in it, and his father told him to let his conscience tell him how to deal with it. He turned the wallet with all the money inside in to the Lost and Found at his father's place of work. Ove always tried to do what was right, and his biggest wish was to be as much like his father as possible. Ove lost his father when he was 16 years old. I can't recommend this book enough. Read it, and your heart will be stolen by a man called Ove too.
A Man Called Ove is the first novel by Swedish blogger and columnist, Fredrik Backman. At fifty-nine, Ove has definite ideas on how things should be done, on the best car to drive (obviously a Saab), and no patience for those who cannot follow the rules. The son of a hard-working, poor but principled man, Ove, too is hard-working and sticks rigidly to his principles. But now, six months since the death of his beloved wife, Sonja, he is "not dead, but not really living", and he is no longer hard-working: he has been retrenched. His life without any purpose whatsoever, he matter-of-factly sets out to commit suicide.

His meticulous plans are derailed, time and again: inferior-quality rope; the Cat Annoyance; the Pregnant Foreign Woman who needs a ladder, a lift, a lesson; radiators that need to be properly bled; a bicycle that needs repair; a fainting Suit needing rescue from certain death; a gay man in need of accommodation. Time and again, he finds himself at Sonja's grave, apologising once more for failing to join her as promised.

The narrative alternates between a three-week period in the present day, and Ove's life from the age of seven, when his mother died. With his cranky main character, Backman gives the reader social commentary with plenty of chuckles, snickers and laugh-out-loud moments: "In the parking area, Ove sees that imbecile Anders reversing his Audi out of his garage. It has those new, wave-shaped headlights, Ove notes, presumably designed so that no one at night will be able to avoid the insight that here comes a car driven by an utter shit" and "'I almost smashed into that car!' pants Parvaneh. Ove peers over the edge of the bonnet. And then, suddenly, a sort of calm comes over his face. He turns and nods at her, very matter-of-fact. 'Doesn't matter. It's a Volvo'" exemplify his opinion about non-Saab vehicles. His insults are similarly hilarious: "You shouldn't even be allowed to rewind a cassette", he tells The Lanky One.

But Backman gives his characters plenty of words of wisdom too: "Men are what they are because of what they do. Not what they say" and "We can busy ourselves with living or with dying, Ove. We have to move on" are two examples. There is much humour in this novel, some of it quite black, but there are also moments that will produce a lump in the throat and even tears. Flawlessly translated from Swedish by Henning Koch, this "requested-by-readers" novel is a stunning debut: moving, uplifting and very funny.

I love reading/listening to books and will read just about anything. I chose this book because it was available from my library. I knew nothing about it aside from the brief synopsis. This book will stay with me forever.
Ove is just a man living with a heart that is too big for him, literally and figuratively. This book showed a man who went from existing before he met his wife, to really living after he met her. When she was gone, he was alive but did not live until he found a purpose in the most unlikely ways possible. This is a book that everyone can relate to on some level. The characters are so varied that you can't help seeing someone you know in one or more of them.
I am very much looking forward to reading the other books by this author.