Description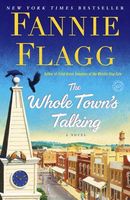 The bestselling author of Fried Green Tomatoes at the Whistle Stop Cafe is at her superb best in this fun-loving, moving novel about what it means to be truly alive.

Elmwood Springs, Missouri, is a small town like any other, but something strange is happening at the cemetery. Still Meadows, as it's called, is anything but still. Original, profound, The Whole Town's Talking, a novel in the tradition of Thornton Wilder's Our Town and Flagg's own Can't Wait to Get to Heaven, tells the story of Lordor Nordstrom, his Swedish mail-order bride, Katrina, and their neighbors and descendants as they live, love, die, and carry on in mysterious and surprising ways.

Lordor Nordstrom created, in his wisdom, not only a lively town and a prosperous legacy for himself but also a beautiful final resting place for his family, friends, and neighbors yet to come. "Resting place" turns out to be a bit of a misnomer, however. Odd things begin to happen, and it starts the whole town talking.

With her wild imagination, great storytelling, and deep understanding of folly and the human heart, the beloved Fannie Flagg tells an unforgettable story of life, afterlife, and the remarkable goings-on of ordinary people. In The Whole Town's Talking, she reminds us that community is vital, life is a gift, and love never dies.
Full Synopsis
About the Book
Published:

Dec-2016

(Hardcover)

Jul-2017

(Paperback)

Formats:

Print / eBook / Audio

Pages:

224

Purchase:
What Readers Are Saying
What do you think? Write your own comment on this book!
Write a Comment
I absolutely love Fannie Flagg's books. Reading one of her stories is like comfort food, warm slippers and a purring cat in your lap all at once. I was looking forward to reading this one, but I found that it wasn't like any of her previous books. As usual, I loved her characters, but in this book there were just so many of them, and the time covered by the book (80+ years), is very long, so it's diffiuclt for a reader to really get to know the characters. I would begin to think that I would know a certain character and then that character would be gone.. Gone, but not really gone, as they all eventually meet up again up on the hill in Still Meadows. In spite of all this, the little town of Elmwood Springs was very realistically portrayed. It was like Elmwood Springs itself was the main character in the book. Ms. Flagg's writing is so folksy and so warm that it's impossible not be drawn in to the world she creates. I just would have liked to be able to spend more time with Lorder Nordstrom and with Aunt Elner and a few others. A nice little comfort book is how I would have to describe this one.