Description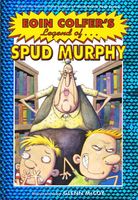 Suddenly, a shadow fell across my brother. . . .
It was Spud. She had appeared without a sound, like a ninja librarian.

The name Spud Murphy strikes fear into the hearts of children everywhere. Grown-ups think she's a kindly old librarian, but kids know the truth. They've heard all about the gas-powered spud gun she keeps hidden under her desk -- make so much as a sound in Spud's library, and you could get spudded with soggy potatoes. Laugh out loud, and you may never be seen again....

Brothers Will and Marty Woodman have been ordered to spend their summer at the library, under the supervision of the terrifying librarian. Will the brothers figure out a way to survive a season marooned on the carpet of Spud's children's section? Or will they discover a new interest that surprises even them?

Full Synopsis
About the Book
Published:

Sep-2004

(Hardcover)

Jan-2005

(Paperback)

Formats:

Print

Pages:

95

Age Level:

07-11

Purchase: