Description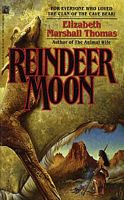 "My name is Yanan and my story begins where it will end..."

She was born over twenty thousand years ago, in a lodge on the ice-swept tundra, in a land where death was always near. Her people were hunters, living in kinship with the tigers and the wolves, struggling through the long winters when meat and wood were scarce...rejoicing in the brief, glorious summers. And in this land of great and terrible beauty, Yanan survived to womanhood-passionate and brave, richly sensuous and dangerously proud. From the perils of the hunt to the timeless wonders of love and marriage, birth and death, Yanan's life was a grand and thrilling adventure in a harsh, magnificent world...

Enter her world. Live her adventure. You will never forget the journey.
Full Synopsis
What Readers Are Saying
What do you think? Write your own comment on this book!
Write a Comment
I read the entire Clan of the Cave Bear series a few months ago, but, after finishing a book taking place in the Dark Ages, I felt I wanted to go back to the Paleolithic times again (Ice Ages, ~20,000 years ago). So, I did a search and came across Elizabeth Marshall Thomas's books. I borrowed both Reindeer Moon and The Animal Wife from openlibrary.org.
Since the back cover the of the book as well as the tags let me know ahead of time that this was not necessarily going to be a HEA book (Happily Every After), I was prepared for some of what I read. The blurb tells us this books covers both the life and the death of Yanan, the central character of the story.
While, for the most part, I enjoyed the story of her life, I found I very much disliked the parts with her as a spirit (until the very end of the book). It also made it more difficult to follow because of all the bouncing back and forth between her human life and her spirit life. This is why I gave this book 3 stars.
It was certainly not on par with the Clan of the Cave Bear series, in my opinion, but, to be fair, I prefer a bit more happiness in my reading materials. There was so much negative emotion in this book (anger, jealousy, fighting, sadness, loneliness, etc.) and difficult experiences (fighting, living like animals, marital discord, deaths, etc.) that it was difficult for me to read (though, admittedly, I skimmed through some of the spirit world parts just because it dragged on).
I would have preferred to see a different ending to the story. The book tells you right from the start that Yanan dies as a young woman, so it was no surprise that she did (and I guessed the means long before I got to that part), but even still, I would have liked to have seen more joy for her in life to make up for all the suffering she experienced. In fairness to the author, however, I imagine life truly WAS full of much suffering and only small bits of joy during this time in human history. Still, she was writing a fictional account, so I would have liked to have seen a bit more of that joy.

When I first looked up the information on this book, it was listed as a historical romance. I do not agree with that listing. It was much more similar to historical fiction as the "romance" between Yanan and her husband was a very small part of the story as a whole. It was really just about Yanan's life, with her husband being just one of the many people in it. I felt her sister Meri and her Aunt Teal were much more significant roles in the story than Timu's (Yanan's husband).

For anyone else who is reading this as an e-book and doesn't want to have to go back and forth to follow the characters, I will post the list I made for me to follow while reading (WARNING - it is possible there could be spoilers in the list):
Characters:
GRAYLAG'S FAMILY:
Graylag - headman of the lodge on the Char (first wife died; his next 2 wives were his brothers' - Marmots' & Goldeneye's widows; he once had 3 brothers - all are dead by the beginning of the story)
Ina - Graylag's elder wife (1st husband was Marmot)
Teal - Graylag's younger wife; Shaman (1st husband was Goldeneye)
Timu - Son of Graylag and his 1st (d) wife; young man (married to Yanan & Ethis)
Elho - Son of Graylag and Teal; young man
Owl - Timu's sister (daughter of Graylag & his 1st wife)
Crane - Owl's husband
Raven - Graylag's nephew (son of either Marmot or Graylag's other brother)
Bisti - Raven's wife
White Fox - Son of Raven & Bisti (Betrothed to Meri; unwillingly broken for Swift)
Junco - White Fox's sister
(Chelka - Graylag's father's little brother)
AHI's FAMILY:
Ahi - Brother of Ina (Graylag's wife)
Lapwing - Ahi's wife (sister to Teal & Yoil; Mother to Yanan & Meri)
Yoi - Lapwing's sister and co-wife
Yanan - Ahi and Lapwing's daughter
Meri - Yanan's sister
Kamas, The Frog - son of Ina & Marmot
Henno, The Stick - The Frog's brother
MAMMOTH HUNTERS:
Swift - headman of the mammoth hunters (betrothed to Meri - Meri & Yanan dislike him)
Rin - Swift's half sister
Ankhi - Swift's niece (Elho's wife)
Ethis - Ankhi's sister (Timu's wife)
PEOPLE AT THE FIRE RIVER:
Black Wolf - Sister of Sali Shaman; Elderly woman (Yanan's grandma's little sister)
Eider - Black Wolf's daughter
Otter - Yoi's 2nd husband
Kakim - The Frog's step-son
SPIRITS:
Marmot - Eldest brother of Graylag; a spirit helper
Godeneye - Younger brother of Graylag; a spirit helper
Sali Shaman - Teal's mother; a powerful Shaman