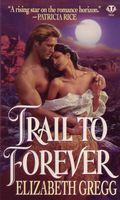 Newest Release
Bibliography:

5 Books - 1 Series

First Book:

June 1968

Latest Book:

March 1997

Rating:
Full Series List in Order
1 - Goldspun Promises (Oct-1994)
2 - Moonspun Dreams (Aug-1995)
3 - Brightspun Destiny (Sep-1996)
Book List in Order:
5

titles
---

Goldspun Promises

At 17, Tressie Majors is stranded in a soddie on the high plains when her mother dies in childbirth. Reed Bannon flees a Yankee soldier after stealing his horse. He was shot and is almost dead when he arrives at the soddie while Tressie is burying he...

---

Moonspun Dreams

PASSIONATE DECEPTION Beautiful Dessa Fallon had never met a man like Ben Poole. Raised in the best society, sheltered by her family's wealth, she could not imagine a man who looked so rough could be so tender...a man so self-reliant could be so gi...

---

Brightspun Destiny

Charlotte "Charlie" Houston tried to do a man's job running the Double H ranch. Montana's Big Sky country challenged the toughest cowpuncher, and its hardships had caused the death of Charlie's dad. Charlie herself might be a woman alone, and no matc...

---

Trail To Forever

SO TRAVELS THE HEART... Granddaughter of an honored Cherokee medicine woman, Rachel Keye held on to hope even after she was sold to a brutal Arkansas woodsman by her half-brother. Someday she planned to follow the Cherokee's new trail west to a land...

---
Frequently Asked Questions (FAQ)
Elizabeth Gregg has published 5 books.
Elizabeth Gregg does not have a new book coming out soon. The latest book, Trail To Forever, was published in March 1997.
The first book by Elizabeth Gregg, What to Do When, was published in June 1968.
Yes. Elizabeth Gregg has 1 series.