Description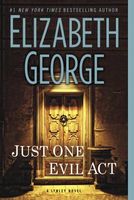 #1 New York Times bestselling author Elizabeth George delivers another masterpiece of suspense in her Inspector Lynley series: a gripping child-in-danger story that tests Detective Sergeant Barbara Havers like never before.

Barbara is at a loss: The daughter of her friend Taymullah Azhar has been taken by her mother, and Barbara can't really help -- Azhar had never married Angelina, and his name isn't on Hadiyyah's, their daughter's, birth certificate. He has no legal claim. Azhar and Barbara hire a private detective, but the trail goes cold.

Azhar is just beginning to accept his soul-crushing loss when Angelina reappears with shocking news: Hadiyyah is missing, kidnapped from an Italian marketplace. The Italian police are investigating, and the Yard won't get involved, until Barbara takes matters into her own hands -- at the risk of her own career.

As both Barbara and her partner, Inspector Thomas Lynley, soon discover, the case is far more complex than a typical kidnapping, revealing secrets that could have far-reaching effects outside of the investigation. With both her job and the life of a little girl on the line, Barbara must decide what matters most, and how far she's willing to go to protect it.
Full Synopsis
About the Book
Published:

Oct-2013

(Hardcover)

Aug-2014

(Paperback)

Formats:

Print / eBook / Audio

Pages:

736

Age Level:

18 & up

Purchase:
What Readers Are Saying
What do you think? Write your own comment on this book!
Write a Comment

This book is most definitey a story about Barbara Havers and her madcap way of policing. The book takes us from London to Italy and back again, and it is a story about love, betrayal, obsession, kidnapping and murder. The book is extremely long, and to me this was to its detriment. I found it tough slogging through the 700 plus pages, and there were times when I got so frustrated with the way Barbara was behaving that I almost put the book away. But this is Elizabeth George and she is a wonderful author, so I persevered. There were some truly wonderful highlights that kept me going through the frustrating parts. Don't get me wrong. Barbara is by far my favourite character in this wonderful series, but it was difficult to maintain my liking of her as a character with this book. She places her life, her job and her happiness all on the line for the man that she loves, even though she never admits to herself that she loves him. She chooses a particularly unsavoury partner to help her through the maze that her neighbour Azhar has woven in his attempt to hold onto his daughter Haddiyah. And she finds herself in more hot water with her superiors than she has ever been in before. During her efforts to help Azhar, Barbara takes herself off to Italy and this is where the book picks up extra points for me making it four stars instead of three. She meets a wonderful police inspector by the name of Salvatore lo Bianco who is strangely drawn to Barbara even though neither one speaks the other's language. Elizabeth George has drawn a wonderful character in Salvatore, and I can only hope that we will see more of him in future books. Or more specifically, that Barbara will see more of him in future books. As much as I loved the Italian connection, I found it difficult to follow some of it as there is much unexplained Italian in the prose, and it's like trying to figure out a puzzle while determining what is actually being said. I found this a bit difficult. Overall I did enjoy the book. And that is because Ms. George always brings the totally unexpected into her narratives. And she is a marvellous writer. For those reasons the book is well worth the time taken to read it.