Description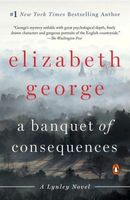 The #1 New York Times bestselling author's award-winning series returns with another stunning crime drama featuring Scotland Yard members Detective Inspector Thomas Lynley and Detective Sergeant Barbara Havers.

The unspoken secrets and buried lies of one family rise to the surface in Elizabeth George's newest novel of crime, passion, and tragic history. As Inspector Thomas Lynley investigates the London angle of an ever more darkly disturbing case, his partner, Barbara Havers, is looking behind the peaceful façade of country life to discover a twisted world of desire and deceit.

The suicide of William Goldacre is devastating to those left behind who will have to deal with its unintended consequences -- could there be a link between the young man's leap from a Dorset cliff and a horrific poisoning in Cambridge?

After various issues with her department, Barbara Havers is desperate to redeem herself. So when a past encounter gives her a connection to the unsolved Cambridge murder, Barbara begs Thomas Lynley to let her pursue the crime, knowing one mistake could mean the end of her career.

Full of shocks, intensity, and suspense from the first page to the last, A Banquet of Consequences reveals both Lynley and Havers under mounting pressure to solve a case both complicated and deeply disturbing.
Full Synopsis
About the Book
Published:

Nov-2015

(Hardcover)

Jul-2016

(Paperback)

Formats:

Print / eBook / Audio

Pages:

736

Age Level:

18 & up

Purchase:
What Readers Are Saying
What do you think? Write your own comment on this book!
Write a Comment

Elizabeth George is an extraordinary novelist who happens to write in the mystery genre. That is a wonderful thing for those of us who love mysteries and who appreciate a master storyteller. Each book in Ms. George's Lynley and Havers series further develops and fleshes out these two wonderful characters. Ms. George's creation of Barbara Havers in particular is quite incredible. Barbara is so wonderfully human with her strange wardrobe and her bad habits like smoking and eating all the wrong things. But she is unstintintingly honest, and exceedingly clever. Time and time again Barbra pulls rabbits out of various hats while trying to get to the truth behind a murder. This book is masterfully written, and it touches on extremely volatile social occurences that make us as readers reexmine the world as we know it. The characters that Ms. George has written for just this book are also well-drawn and realistic. It is a book about long-kept secrets and how these secrets manage to bring about catastrophic events later on in the life of the characters. We see Barbara valiantly trying to win back the favour of her superiors after her digression from obedience in the last book. We see her valiantly trying to work with others instead of going off half-cocked on her own. The partnership between her and Winston Nkada is realistically discussed during the course of the book while her and Winston are tying to unravel secrets in a small rural community. As more and more secrets come to life under the merciless excavation of Barbara and Winston, the motives behind the various crimes become clear, but they are very, very disturbing. Do they, with the help of Lynley in London, get it right eventually? That you'll have to read and determine for yourself. I cannot wait for the next book in this wonderful series.