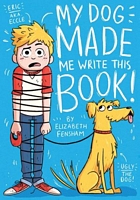 Newest Release
Bibliography:

6 Books - 1 Series

First Book:

May 2005

Latest Book:

July 2019

Rating:
Full Series List in Order
1 - My Dog Doesn't Like Me (Aug-2014)
2 - My Dog Gets a Job (May-2017)
3 - My Dog Made Me Write This Book (Jul-2019)
Book List in Order:
6

titles
Helicopter Man

Pete's dad is being pursued by a secret organisation and both their lives are in danger. That's why they never stay in the same place long, and always stay out of sight. Pete knows he leads an unusual life for a twelve year old boy, but he's never da...

---

My Dog Doesn't Like Me

A heartwarming book that teaches the importance of responsibility and love for a pet Eric was given a dog for his eighth birthdaythat was nearly a year ago. The dog, named Ugly (because he is just that), settles into Eric's family but is not atta...

---

My Dog Gets a Job

Eric knows better than anyone that having a puppy can take a lot of work. As the (mostly) responsible owner of a big, shaggy dog named Ugly, Eric has basically mastered the art of dog training. At least, he thought he had. When Ugly gets into a serie...

---

---

---

My Dog Made Me Write This Book

When Eric got a dog, he thought he was getting a best friend. But his dog doesn't even consider Eric to be his second best friend. Or his third. He even likes Eric's horrible sister, Gretchen, more than he likes Eric. Eric isn't sure wher...

---
Frequently Asked Questions (FAQ)
Elizabeth Fensham has published 6 books.
Elizabeth Fensham does not have a new book coming out soon. The latest book, My Dog Made Me Write This Book, was published in July 2019.
The first book by Elizabeth Fensham, Helicopter Man, was published in May 2005.
Yes. Elizabeth Fensham has 1 series.