Description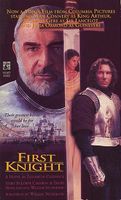 FROM THE AGE WHEN KNIGHTHOOD WAS IN FLOWER ... THE IMMORTAL ROMANCE THAT BECAME A ROYAL SCANDAL

All the colorful characters and events of fabled Camelot come vividly to life in this unique new account of the legendary King Arthur, Lancelot du Lac, and Guinevere, Lady of Leonesse. Here is a Lancelot never before revealed--a fearless drifter who sold his sword for money until he found something truly worth the battle. Here, too, is a different Guinevere, a warrior queen ... and wise King Arthur Pendragon, who would go to any length

in order to save his people. Lancelot was First Knight--until his love for Guinevere tested his loyalty for his king. Thrill as this chivalrous trio defends the Round Table from the murderous rogue Malagant in a fantastic rendition of an enduring tale.
Full Synopsis
About the Book
Published:

Jul-1995

Formats:

Print / Audio

Pages:

281

Purchase: