Description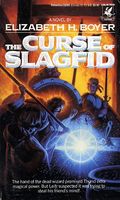 THE UNDISCOVERABLE CURSE

Leifr and Thurid were in trouble--worse than usual. In Leifr's efforts to recover his lost love, Ljosa, and Thurid's attempt to escape the Inquisitors they had fallen into the hands of the evil Master Wizard Djofull. Djofull had tricked them into swearing in blood that they would destroy the curse that afflicted Hraedsla-dalur or return to serve his vile plans.

Now they were with the grim, surly, and miserable family that suffered under the curse--had done so for seven hundred years. The family refused to speak of the curse or let them destroy the horrid giant Jotuns who preyed upon them and seemed to be part of the problem.

Not all Thurid's magic could find a key to the mystery, but already Thurid showed signs of being afflicted by the curse. They were growing desperate. And time was running out...
Full Synopsis
About the Book
Published:

Jun-1989

Formats:

Print

Pages:

341

Purchase: