Description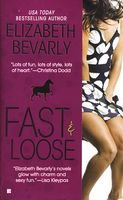 Thoroughbred trainer Cole Early hopes to make his charmed life even sweeter with a win at the Kentucky Derby. But first, the hotshot media sensation needs a place to stay. With all of Louisville booked for Derby week, he snaps up the snug little bungalow his agent miraculously finds.

Strapped for cash, glass artist Lulu Flannery has agreed to rent out her house for the Derby, but she is immediately overcome by second thoughts. What if her house-guest is someone like that rowdy "King Cole" person she sees partying on TV every night and in the society pages every day-and who seems to keep popping up in all the same places as her? A guy like that could wreak havoc on a girl's feng shui.

But it isn't Lulu's feng shui that Cole is interested in. Especially after he discovers she's the mysterious woman whose house is filled with indulgences to please all five senses-and then some. What's a guy gotta do to ignite passion in the self-possessed Miss Flanner ?
Full Synopsis