Description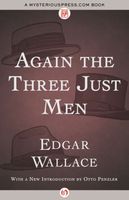 Ten thrilling tales from the secret files of the world's most famous vigilantes

An honest workingman tries to intimidate his wife's blackmailer and winds up in prison. Only the organization known as the Four Just Men can save him -- by taking the law into their own hands. A noted professor is found strangled to death in his laboratory, and the prime suspect is his sinister-looking son. When Manfred and Gonsalez realize that the police have not only the wrong man, but the wrong murder method, they set a trap for the real killer. A chance encounter on a golf course reveals a plot to eradicate one of the earth's most innocent and necessary creatures, and Gonsalez vows to stop the mad scientist in charge, whatever it takes.

With the assassination of Sir Philip Ramon and the war against the Red Hundred years behind them, Manfred, Gonsalez, and Poiccart have settled into lives of scholarship and leisure. That does not mean, however, that they can let injustice stand. Wherever these three principled men go, they carry with them the memory of the original fourth member of their group, who was gunned down in a Bordeaux café decades ago. In his honor, and in defense of innocence and integrity, they will act -- swiftly and without remorse.

In these unforgettable stories, Edgar Wallace demonstrates the enduring appeal of a clever mystery solved -- and vengeance obtained.

Full Synopsis
About the Book
Published:

May-2014

Formats:

Print / eBook

Pages:

104

Purchase: