Description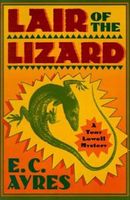 E.C. Ayers's Hour of the Manatee won the St. Martin's Press/Private Eye Writers of America award, and his subsequent P.I. novels, all with an environmental undertone, have garnered nothing but high marks from readers. In the fourth outing for Ayers's Florida P.I., Tony Lowell, the detective travels west to answer an urgent plea from his daughter Ariel.
A good friend of Ariel's, a Hispanic woman from Santa Fe, has disappeared and all indications point to foul play. Tony reluctantly agrees to go to Santa Fe to track down the missing woman. Assisted by his old acquaintance P.I. Joshua Croft, and, at Ariel's insistence, a New Age mystic, Lowell soon finds himself in over his head in a situation involving deeply divided cultures, traditions, and a general western mistrust of outsiders.
Stubbornly pressing forward, Lowell discovers that the missing woman, Alicia Sandoval, was once married to a violent felon who has continued to stalk her. He then discovers something even more chilling: The felon, a locally popular man, was previously married to a woman who also disappeared, and whose remains have just been found in a high mountain cave.
One of the last Sixties holdouts, Tony Lowell is a man with a conscience and a knack for getting embroiled in the most harrowing of situations. Ayres does not disappoint in his latest mystery, and delves deep into the exploration of the rigid Mexican-American traditional mores of the Southwest.

Full Synopsis
About the Book
Published:

Nov-1998

(Hardcover)

Oct-1998

(Paperback)

Formats:

Print

Pages:

260

Purchase: