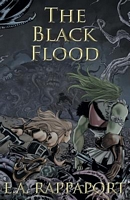 Newest Release
Bibliography:

9 Books - 1 Series

First Book:

May 2008

Latest Book:

June 2017

Rating:
Full Series List in Order
1 - The Legacy of Ogma (May-2008)
2 - Forging Paradise (Nov-2008)
3 - Shadow from the Past (Apr-2010)
4 - Secrets of the Undercity (Jun-2011)
Book List in Order:
9

titles
The Legacy of Ogma

"A potent sword and sorcery adventure with a multi-layered plot, brimming with action from cover to cover." - The Midwest Book Review

"A terrific debut! Rappaport creates a wondrous world of adventure and enchantment, with engaging, vividly ...

---

Forging Paradise

After a supposedly mythical race of desert warriors invades the human territories and destroys every city in its path, five former enemies must travel together into the netherworld and harness the unpredictable power of demons to defeat the seemingly...

---

Shadow from the Past

Mysterious fires fan an ancient grudge between the Arboreals and the Ferfolk, pushing lifelong enemies toward a devastating war. Two young strangers overcome their mistrust of each other and uncover the real force intending to ravage the land.Arborea...

---

Secrets of the Undercity

Abandoned and betrayed as a child, Halia seeks revenge. Frustrated by his limited abilities, Oswynn seeks powerful magic. The paths of the thief and apprentice cross when battling an eruption of dangerous half-breed creatures that might destroy an en...

---

The Lesser Evil

Villagers and animals are mysteriously disappearing from the coastal towns of the Cold Sea. The only ones who can restore peace are a necromancer, obsessed with bones and death, and a cunning thief who only cares about protecting his gold. The lifelo...

---

---

Voices from Below

When Halia and Xarun hear cries for help coming from their recently deceased friend, they must find a way to open a portal to the netherworld and send aid.

Minaras, a master elementalist, was killed in battle against a half-dragon, but his voi...

---

Whence Chaos Born

In a land ravaged by the awesome forces of nature, where homes and families are ripped apart by the winds and water of massive tsunamis and terrible earthquakes, a hero rises over the gale.Toth, the powerful necromancer, has convinced the suffering r...

---

The Black Flood

Demons have breached the void with a plan to claim the world as their own. Can Jarlen discover their weakness before they destroy everything? With dead bodies returning to life and demons roaming the land, Chara and Tyraz wonder what has happened to ...

---

---
Frequently Asked Questions (FAQ)
E.A. Rappaport has published 9 books.
E.A. Rappaport does not have a new book coming out soon. The latest book, The Black Flood, was published in June 2017.
The first book by E.A. Rappaport, The Legacy of Ogma, was published in May 2008.
Yes. E.A. Rappaport has 1 series.